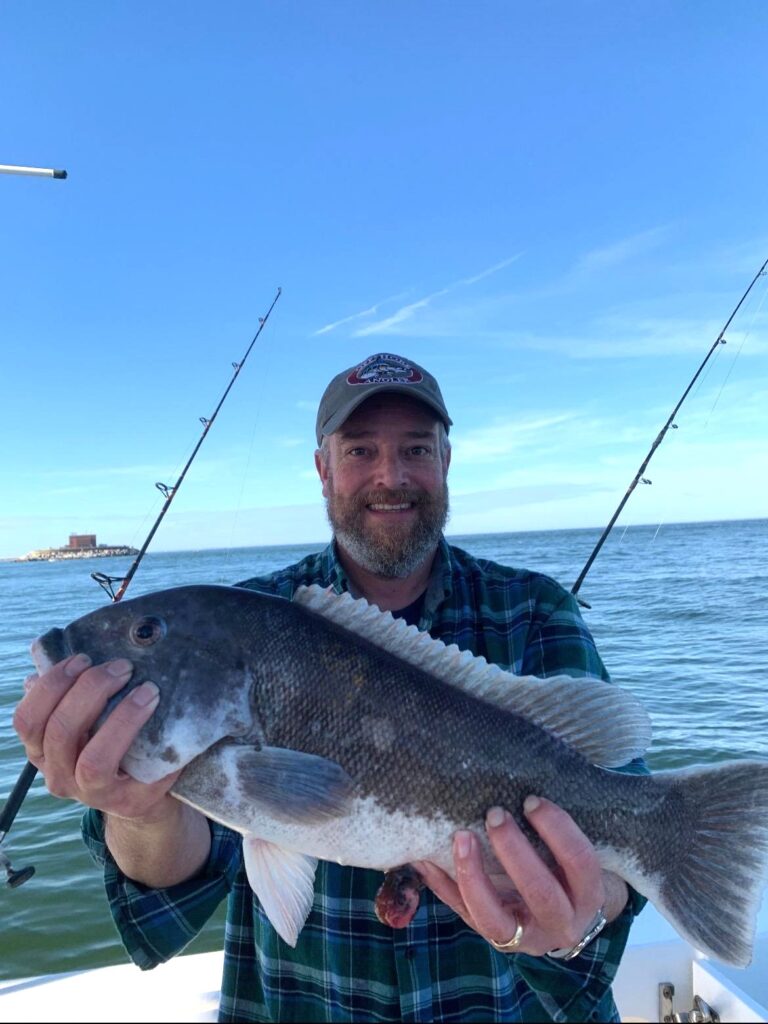 Happy Thanksgiving! The Bay's water temperature is currently hovering in the high 50s, which means that Tautog fishing is improving at the CBBT Islands and on the lower bay's wrecks and reefs. Blue crab is the most effective bait, but Togs will also take mole crabs, clams and whelk.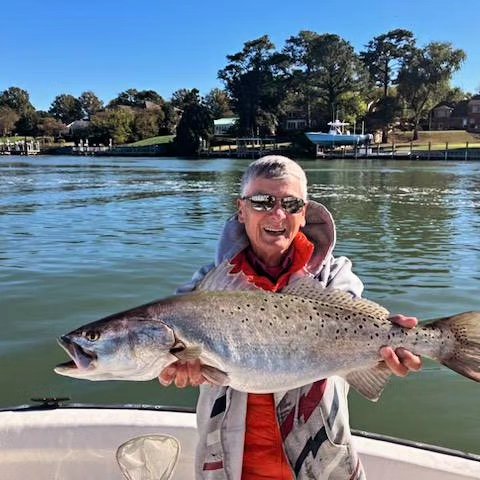 Speckled Trout and Puppy Drum are the main targets right now. These fish can be found in most of the tidal inlets, creeks and rivers. Captain Todd Beck with Knot Wish'n charters reported a fantastic Trout bite at Rudee Inlet on Friday, with almost every cast producing a fish for 3 hours. However, most of them were undersized. Big Red Drum should show up in Rudee soon, as the water temperature there is 56 degrees. Connie at Long Bait Pointe Bait and Tackle said that Trout and Drum catches are increasing inside Lynnhaven. They've weighed several trophy-sized Trout in the past two weeks. Popping corks with shrimp baits, swimbaits and Mirr-o-lure are good options for bait.
Small Rockfish, under 10 pounds, are being caught in the rivers, the Rappahannock, James, Piankatank, Elizabeth and York. Some are also around the CBBT. Umbrella rigs, tandem rigs, swim shads or bucktails are good lures to use. Many creeks and inlets have lighted docks at night, which attract baitfish and hungry rockfish. Cooler temperatures should trigger the migration of larger Rockfish down the coast and into the Bay.
Sandbridge surf anglers are catching a few Black Drum, Red Drum and Sea Mullet.
Black Seabass fishing is good on the offshore wrecks. The season is open until the end of the year. Anglers can keep 15 fish each. Citation plaques are awarded for any caught over 5 pounds.
Further out there have been a few reports of Blackfin Tuna and King Mackerel. Those targeting swordfish have been successful.
TOP VIRGINIA BEACH CHARTERS!