by Ken Neill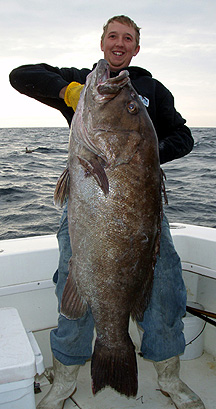 How to fish for Tilefish, Grouper and Sea Bass off Virginia Beach.
What: The blueline tilefish is a dull olive-gray overall and white below. The lack of fleshy protuberance behind the head distiguishes it from the commercially important tilefish, Lopholatilus chamaeleonticeps. The blueline tilefish is a bottom dweller found in water ranging from 240-780 feet deep, from Virginia to the Campeche Banks of Mexico. It is frequently found in the same habitat as groupers and snappers, preffering irregular bottom with sand, mud and shell hash. It is usually found in bottom water temperatures of 59° to 73° F. It has been found to burrow head first in cone-shaped sand piles. It may grow to be 32 inches and live up to 15 years. Spawning occurs from May to October, and females may lay more than 4 million free-floating eggs (Hermaphrodism is suspected to occur in this species). Blueline tilefish feed on bottom creatures, such as crabs, shrimp, snails, worms, sea urchins and small fish.
Snowy Grouper coloration varies with the size of the fish. Smaller fish are dark brown overall, punctuated with coin-size pearly white spots on the sides. A distinctive black, saddle-shaped blotch occurs on the caudal peduncle and extends down below the the lateral line. Larger snowy groupers usually lose the white spots and caudal saddle and become dark brown with a slight coppery tint. The spiny portion of the dorsal fin has a black margin. Snowy groupers can be found in the outer continental shelf of the South Atlantic Bight, which is characterized by ridges, terraces and precipitous cliffs. The species is distributed in the western Atlantic from Massachusetts to Brazil, including the Gulf of Mexico, the Lesser Antilles and the northern coast of Cuba. Snowy grouper are protogynous hermaphrodites, spawning from May to June more than 2 million eggs. Fish are capable of reproducing when they are 4 or 5 years old, about 18 to 20 inches long. They may reach a maximum age of 17 years and a weight of 70 pounds. The snowy grouper is territorial, like most groupers, and waits to ambush its prey.
Offshore bottom fishing out of Virginia has greatly increased in popularity in recent years. Sea bass fishing has always been popular and the current world record sea bass, 10 pounds 4 ounces, was caught off of Virginia by Allan Paschall in 2000. In addition to sea bass, anglers began to learn how to fish for grouper, tilefish and wreckfish. They found an amazing fishery. Six blueline tilefish and two snowy grouper IGFA All-Tackle World Records have been set off the coast of Virginia over the past year. Four of those records were set on my boat, the Healthy Grin.
Due to the growing popularity of this fishery, Virginia has added snowy grouper, blueline tilefish and golden tilefish as eligible species for state records. We also added blueline tilefish to the trophy fish citation program. It takes a ten pound blueline to qualify for a citation.
The offshore waters off of Virginia are a good place to catch bottom fish. How to start? Well, the best way to shorten the learning curve is to go with a pro. There are several types of charters to choose from. You can choose a big headboat which is the most economical way to go. They have large cabins for your ride out and back. For more personal service, you can go on a small headboat. Fewer passengers mean fewer tangles. These trips will cost you a little more. The next type of trip would be the typical 6-pack charter. These boats are fast making for less time running. Pick the size crowd that you want to fish with. They all provide a great service, you will catch fish and you will learn something to boot.
When and Where: When you want to head out in your own boat, it is a big ocean out there. Let's narrow it down a bit. Any structure out there will hold sea bass. The deepwater wrecks will have them all year but it is the cold time of year when the jumbo sea bass are stacked up. Look for wrecks laying in twenty to fifty fathoms of water. Some good sea bass wrecks are the Ocean Venture, the 44-Fathom Wreck, and the Chenango. You will catch some tilefish around the wrecks but that is not where most of them are being caught. Off of Virginia, the 50 fathom curve seems to be the magic area for blueline tilefish. Watch your bottom machine while traveling in water 45 to 55 fathoms deep. Stop and fish anything that looks different. Sometimes you will see a cloud of fish but often it will just be a small hill or a dip in the bottom. Try it and if you catch a tilefish, save that mark. These fish live in colonies. We have caught tilefish all along the 50 fathom curve from east of the Cigar on up past the Norfolk Canyon. Tilefish and grouper will be out there all year. We have been catching the grouper in the same areas that we have found the tilefish, maybe just a little deeper. You will catch a lot more tilefish than grouper. Sea bass will also be mixed in with the tilefish and grouper.
How: You probably already have the tackle that you need for this type of fishing. Any medium-sized conventional reel will work with a rod with some backbone. Big and heavy offshore trolling tackle is not needed. What you are using to troll for striped bass will probably work just fine. Reels in the size of a Penn 320 or 330 will do the trick. If you are going to buy a new reel for this type of fishing, pick one that is not too heavy, has a large handle, and has a higher gear ratio. You will appreciate it when it is time to reel all that line back to the top. The Shimano Torium is a popular choice. It can even be done with a spinning reel. Bob Manus brought one out and used it to catch tilefish just to see if it could be done. It can. We will talk a bit more about Bob in a moment. Of course, if you would like to catch these bottom fish with less effort and you don't care about records or citations, this is what electric reels are made for. Whatever reel you use, it should be spooled up with some sort of braided line. It can be done with monofilament but the braid will let you feel what is going on much more easily.
Terminal tackle is simple and you can tie your own. One rig is made with 50 lb monofilament leader. Tie a loop in each in with a couple of dropper loops in the middle. Place a couple of hooks on your dropper loops. Attach a sinker to one end and attach the other end to your main line. Hooks can be j-hooks or circle hooks. We use both. This is our typical sea bass rig which can be used for all of the bottom fish out there. When we are targeting grouper, we will beef things up a bit with 100 lb leader. We will basically fish with a hefty flounder rig, a three-way swivel with a short dropper to the sinker and a three to five foot dropper to our hook. A third rig we will use is pretty much in-between these two. 80-100 pound leader with a loop at each end to attach a sinker and your main line. Instead of dropper loops, we use two three-way swivels to attach our hooks to. We use about 12 inches of leader between the hooks and swivels. Jeff Dail, a 2-time world record holder, likes to add glow beads to this rig to spice things up. You will need to use a heavy enough sinker to stay on the bottom. This can range anywhere from eight to thirty-two ounces of lead.
Bait can be just about anything you can think of. Sea bass, tilefish, and wreckfish seem to eat anything. Squid, clam, and any cut fish work fine. Boston mackerel stays on the hook well and makes a good cut bait. The grouper we have caught have all been caught on fish baits so far. Artificial baits will work. Heavy jigs like diamond jigs have long been used to catch big sea bass. They also work on tilefish. That is what Bob Manus was doing out there with a spinning rod, he was catching tilefish with a diamond jig. The artificial "natural" baits like Gulp will also work but that brings us back to Bob again. Bob had the idea of making his own bait. He thought that a piece of natural sponge soaked in menhaden oil might make a good bait and stay on the hook well. He could not find a natural sponge so he bought a big, yellow artificial sponge like you might use while washing your car. He showed up at the boat with the sponge cut up into cubes. So we have a guy named Bob with a bunch of little yellow sponges. He put one on each hook, dipped them into the oil and started catching monster sea bass two at a time. He weighed-in 5 citations that day. On later trips, he tried the sponge without the oil and still caught fish just as fast as the rest of us using natural bait. Sea bass, blueline tilefish and wreckfish all love the sponge. Bob is now known as Sponge Bob wherever he goes. We tease him about it but whenever we head offshore, we make sure that he has his bag of sponges with him.
This "new" fishery has raised some regulatory concerns. These fish are considered over-fished in areas to our south while we seem to have very healthy populations here. These fish are regulated by the regional management councils. We are not really supposed to have these fish off of Virginia, except for sea bass, we are totally unregulated at the time this is written. Areas to our south have very strict regulations. Right now the regional councils are looking at extending the southern regulations north to try and protect this fishery. These regulations are very complex and would lead to some interesting conflicts. Wreckfish are mostly a recreational catch here while in the southern region they are regulated as a commercial only species. Virginia is looking at enacting its own regulations to sustain this fantastic fishery which we have off of our coast. We probably do need some regulations put on this deep-water fishery but the draconian regulations to the south are probably more than we need. Right now, you can keep 25 sea bass at least 12 inches long per person. Before you head out there, check the latest regulations. I expect Virginia may have some regulations for tilefish, grouper, and wreckfish in place before the end of the year.
Offshore Wrecks
Ocean Venture: 37 04.425′ 074 55.722′
44 Fathom: 36 54.775′ 074 42.456′
Chenango: 36 27.617′ 074 56.601′