CHARTERING GUIDE
LET US HELP YOU CHOOSE A CHARTER BOAT THAT IS RIGHT FOR YOU!
LINK: WHAT TO EXPECT FISHING THE MID-ATLANTIC COAST
Here we help you understand and select the right type of charter for you and your guest.
You need to understand what type of charter fits your needs, a  Party Boat or Headboat, a 50 foot sportfisherman, a mid-sized Chesapeake Bay craft or a small custom guide boat.
Once you have decided, the next step is to make sure the Captain and boat are United States Coast Guard-certified. This certification verification is the customers responsibility, you should verify this with the boat captain before chartering.
Charters run out of several local inlets, Rudee, Lynnhaven and Little Creek. They know the local waters, keep up with new fishing techniques, and know what fish are available and where to catch them.
A good way to learn the basic angling techniques for catching certain species of fish is to charter a boat or hire a guide to take you fishing. For example, if you want to learn how to catch marlin, tuna or dolphin, charter a boat for an offshore fishing trip out of Rudee Inlet.
If Bay fishing is your thing book a boat from Little Creek Inlet, Lynnhaven Inlet in Virginia Beach.
If you want to fish the shallows for puppy drum or specks book a guide. Pay attention to how the mate rigs the baits, prepares the terminal tackle and how the baits are fished.
Many top saltwater anglers charter boats on a regular basis. Sometimes they want to pursue a type of fishing their boats and equipment are not prepared to handle or they just want to enjoy a day of fishing, without the hassles of preparing baits and tackle, navigating a boat, and cleaning up after the trip is over. Charter boats welcome experienced anglers and are willing to allow them a greater role in the fishing experience. Of course, this should be discussed with the captain prior to leaving the dock.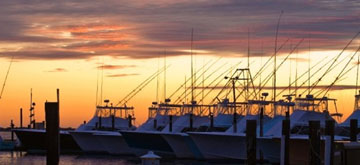 Choosing your charter?
Private charter boats, carry up to 6 anglers for one set fee on a custom fishing trip either inshore or off. These boats do mostly trolling, however they do bottom fishing also. Trolling is where the boat puts out up to 7 lines at varying depths & lengths and is moving the whole time dragging baits. On a offshore trip you can catch such species as Blue Marlin, Blue Fin & Yellow Fin Tuna, Wahoo, Dolphin, King Mackerel, Blue Fish, Spanish Mackerel. While bottom fishing you can catch Stripers, Croaker, Spot, Flounder, Trout, Drum, Cobia, Amberjack, Sharks and Spadefish.
Guides services, specialize in custom trips and cater to small groups, usually 1 to 3 anglers. This type of chartering is up close and personal, lots of one on one instruction from your guide. They offer a hands on experience, from rod handling to bait rigging. Most guide trips are inshore but some guides offer offshore trip as well. Guides offer additional fishing techniques, like saltwater fly-fishing.
Head boats, sometime called party boats, take 30 to 60 fishermen on a bottom or drift fishing trip lasting from a half day to whole day. Anglers pay on a per-angler bases, and the boat usually has room for walk ups. The trip includes bait, tackle, someone to gaff and take your fish off, and great help when lines break or get tangled.