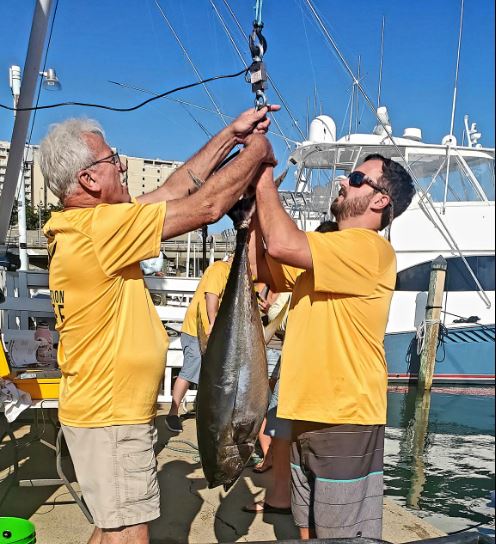 Virginia Beach's offshore Bluewater action is getting better by the day, white marlin; yellowfin tuna, bigeye tuna, wahoo and gaffer dolphin. Blue marlin encounters will increase in July and peak in August … just in time for the Virginia Beach Billfish Tournament.
The 18th annual Virginia Beach Tuna Tournament took place over the weekend. Over one hundred teams competed for more than $290,000.00's in prize money. MARLIN MANIAC took first place at 258.3 pounds, LULU finished runner up at 222.4 and third went to LORIEV at 173 pounds. Final leaderboard.
Offshore deep droppers are still catching plenty of tilefish and sea bass.
Spanish mackerel and ribbonfish continue to bite along the oceanfront. Spanish should be available near tide rips in the Bay.
Cobia action remains excellent. Most are falling to live bait fished in chum slicks.
Spadefish are around buoys, pylons of the CBBT and the Chesapeake Light Tower.
Connie Barbour at Long Bay Pointe Bait and Tackle said there are a lot of sheepsheads hanging around the CBBT.
Big red drum are still plentiful throughout the lower Bay.
Flounder catches are on the rise at the CBBT, around inshore wrecks and artificial reefs throughout the lower bay and along the coast. Coastal wrecks are also holding bluefish, amberjacks and triggerfish.
Pier and surf anglers are finding bluefish, spanish, flounder, croaker, sea mullet and small spot.
Be sure to book a VBSF sponsor boat and then send us your pictures for our next report!