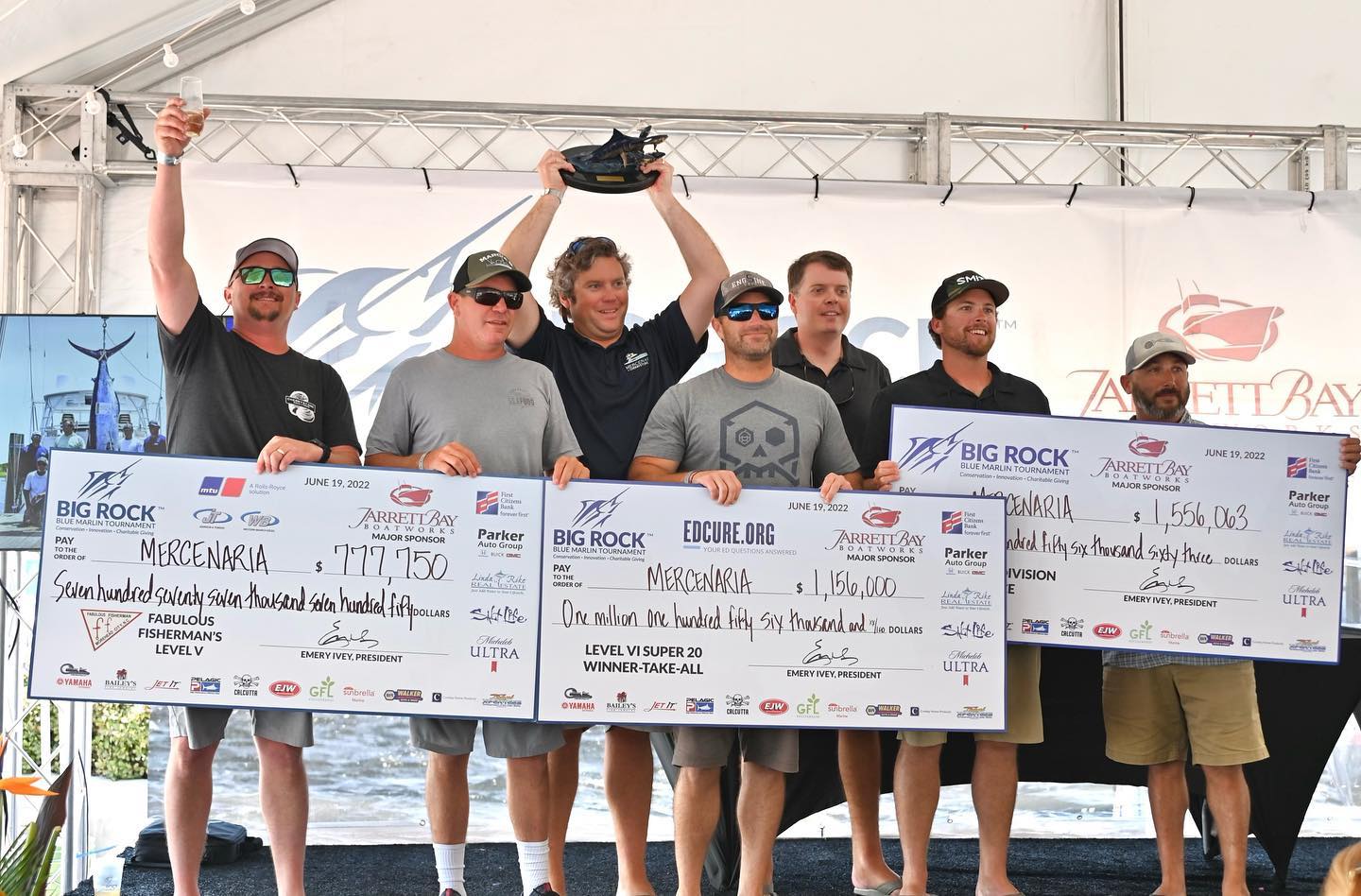 Virginia boat the Mercenaria, Captain Neil Sykes and angler Matthew Brown captured the overall title at the 64th annual Big Rock Blue Marlin Tournament held out of Morehead City, NC . The 6-day event featured 266 teams and a total prize payout of $5.9 million. The Mercenaria a 72-foot Viking is home ported in Cape Charles and fishes out of Rudee Inlet. Their 572.6-pound marlin caught on day 1 held the top spot on the leader board all week. The winning fish earned more money than any single Marlin in history, $3,489,813.00. Congratulations!
Virginia Fishing Report
Good Spanish mackerel fishing continues along the oceanfront and in the lower bay. Most fish are being caught using Clark or Drone spoons tie directly to a 20-30 foot mono leader run behind a planer or in-line trolling sinker.
Cobia season is open. Most anglers are fishing live bait in chum slicks. But always have a rod ready to sight cast.
Spadefish are around buoys, pylons of the CBBT and the Chesapeake Light Tower.
Sheepsheads are hanging around structure. Look for them around the Cell, CBBT, Plantation Light, York Spit Light, the buoys at the mouth of the bay, the Chesapeake Light Tower, Tower Reef, and any wreck you can find.
Big red drum are still plentiful throughout the lower Bay. Latimer Shoal and the shallow water near the northern section of the CBBT are where most of the fish are caught.
Flounder catches are on the rise. Look for them along the CBBT, around inshore wrecks and artificial reefs throughout the lower bay and along the coast. Captain Craig Paige on the Paige II put his crew in the meat this week.
Pier and surf anglers are finding bluefish, spanish, flounder, croaker, sea mullet and small spot.
Big amberjacks are at the south tower and should be at the Chesapeake light tower.
Coastal wrecks are holding bluefish, amberjacks and triggerfish.
Offshore boats are catching dolphin, yellowfin tuna and an occasional big eye tuna. The Virginia Beach Tuna Tourney takes place June 22nd – 25th, 2022. Weigh stations are Long Bay Pointe Marina and The Virginia Beach Fishing Center. https://vbtuna.com/location/
Deep droppers are catching plenty of tilefish and sea bass.
Be sure to book a VBSF sponsor boat and then send us your pictures for our next report!