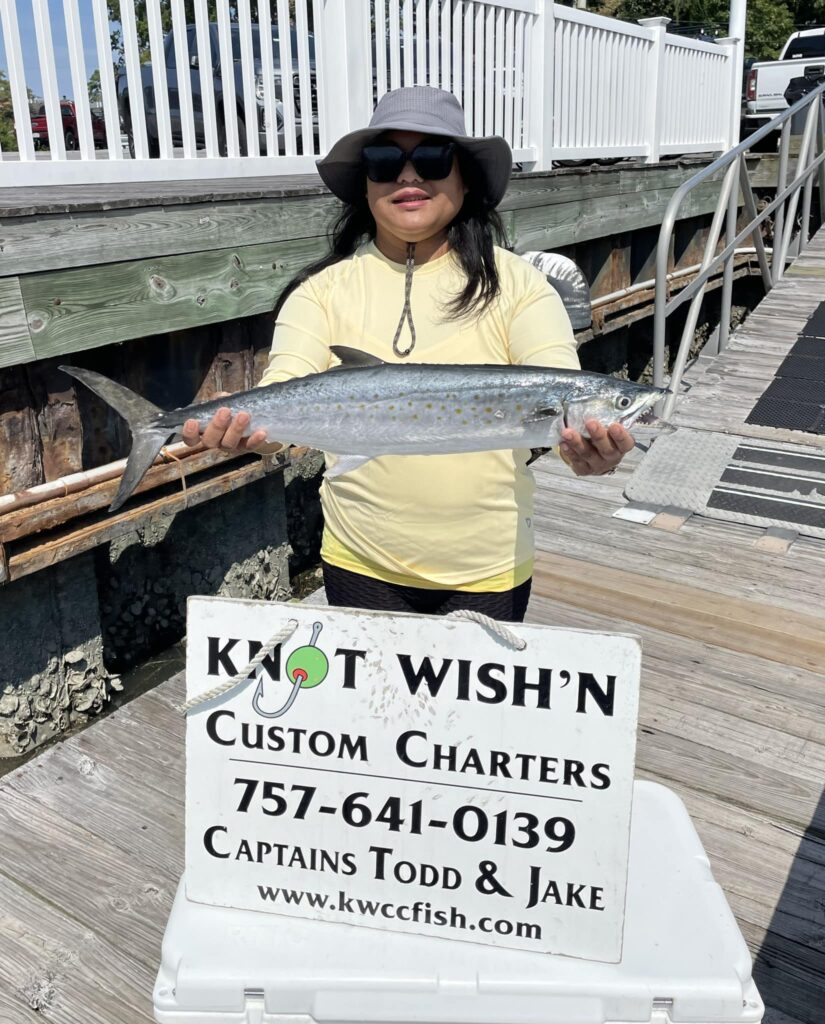 The weather is not very favorable for fishing in Virginia Beach this week, as a cold front is lingering in North Carolina and bringing some instability to the area. Mid-week there is also a chance of strong winds, as Tropical Storm Idalia approaches.
However, there are still some fish to be caught if you are willing to brave the elements. VBSF charter boat sponsors are catching some decent size Spanish Mackerel. They can be found both in the ocean and in the Bay.
Cobia are on the move as they start leaving the bay, but there are still plenty around.
The artificial reefs are holding a variety of fish, such as Puppy Drum, Sheepshead, Flounder, Tautog, Sea Bass, Sea Mullet, Spot, and Croaker.
Red Drum are biting well in the late evening and night hours around the CBBT.
Speckled Trout are also active in the rivers and inlets, along with Puppy Drum, Spot, and Croaker.
Flounder catches have been good. Captain Craig Paige has been enjoying great flounder fishing!
Offshore Bluewater fishing has been outstanding! Lots of sailfish being caught this year!
The Virginia Beach Marlin Tournament was held last week out of Rudee Inlet, the tournament's total purse was $845,750. Team Just Right, led by Capt. Robbie Brown, made a remarkable comeback on the final day of the event to claim the 20th Annual Virginia Beach Billfish Tournament title. The team released a blue marlin and a sailfish on the first day and added nine more sailfish releases on Saturday, earning 900 points in total and the tournament trophy. Just Right also received awards for the multiple daily and tournament jackpots, Top Crew and the F. Wayne McLeskey Memorial Trophy as the top boat. The team took home $463,850 for their achievements. Capt. Daniel Caison and his crew on All In, were the runners-up with 890 points. Wall Hanger, owned and captained by Brian Allen, secured the third-place spot overall, after releasing eight billfish and accumulating 820 points. Gratitude, captained by Mike Resch, finished fourth after scoring nine billfish in the two days of fishing. Sniper, captained by Chris Raiford, ranked fifth overall with eight releases and 560 points.
In the Gamefish Divisions, Outlier won the top tuna prize when Robert Rodelsperger landed a 68.40-pound yellowfin. Larry Lusk caught the largest wahoo at 53.10 pounds on Don't Panic. Dan Birley, on Iron Leader, hooked the heaviest dolphin of the week, weighing in at 30.9 pounds. All three gamefish-take-all awards were worth $12,500.
TOP VIRGINIA BEACH CHARTERS!