An abundance of fish are available in June! Here is what to expect this week.
Cobia are showing along the coast and inside the Bay. These powerful fish can weigh up to 100 pounds and put up a great fight on rod and reel. You can find them by sight fishing near buoys, channel markers, and bait pods, or by chumming and anchoring near drop-offs and ledges. Live eels, bunker, croaker, and bluefish are some of the best baits for cobia. You can also use artificial lures such as bucktails, spoons, and swimbaits.
Schools of large Red Drum are being encountered on the Bay shoals and around the CBBT. These fish are also known as channel bass or redfish, and can grow over 50 inches and 90 pounds. Smaller ones, puppy drum are found in shallow water near grass beds, oyster bars, sand flats, and islands. You can catch them with cut bait, live bait, or artificial lures such as jigs, plugs, and soft plastics.
Spadefish are being caught at the Chesapeake Light Tower and around the CBBT. These fish are also called angelfish, and they have distinctive black and white stripes. They are very fun to catch on light tackle, as they are strong and agile. You can find them near structure such as pilings, wrecks, reefs, and buoys. The best bait for spadefish is clam strips or jelly balls (a type of jellyfish). You can also use small hooks and light line to avoid spooking them.
Sheepshead are hanging around structure in the lower Bay. These fish have human-like teeth that they use to crush shells and barnacles. They are very tasty and challenging to catch, as they are very good at stealing bait. You can find them near pilings, rocks, bridges, and artificial reefs. The best baits for sheepshead are clams, fiddler crabs, mussels, and shrimp. You can also use a braided line and a strong leader to prevent break-offs.
Speckled trout are available in the inlets and tidal rivers. You can catch them by drifting or casting with live bait such as mullet, shrimp, or minnows, or with artificial lures such as jigs, grubs, jerkbaits, and topwater plugs.
Flounder continue to be caught seaside, especially on the Eastern Shore in the Wachapreague area. These fish, also called fluke or flatfish are very delicious and sought-after by anglers. You can catch them by drifting or bouncing with live bait such as minnows, squid, or bunker strips, or with artificial lures such as bucktails, spoons, or gulp baits.
As the water temp hits 70 degrees Fahrenheit, look for the spanish mackerel and taylor bluefish bite to turn on. Spanish are very fast and aggressive, and they can be caught by trolling or casting with small spoons, jigs, or plugs. Spanish mackerel are very good to eat, but they should be iced down immediately after catching to preserve their quality.
Look for stripers around the islands of the CBBT.
Black sea bass are plentiful on coastal wrecks. These fish have dark coloration with blue highlights. They are very fun to catch on bottom rigs with squid, cut bait, or jigs. Black sea bass are very tasty , and they can be cooked in various ways such as frying , baking , grilling , or steaming .
If you are a fan of offshore, bluewater fishing, you might want to mark your calendar for some of the exciting tournaments happening in Virginia Beach in summer of 2023. Here are some of events you can look forward to:
The Virginia Beach Tuna Tournament is held from June 21 to June 24 and attracts anglers who want to catch the biggest tuna in the Atlantic. The tournament offers cash prizes, trophies, and a festive atmosphere at the Rudee Inlet Marina.
The 21st Annual Wine, Women & Fishing Ladies-Only Charity Billfish Tournament is a fun and charitable event that supports breast cancer research. It is held from August 19 to August 20 and features a ladies-only fishing competition, a wine tasting, and an awards banquet. The tournament is hosted by the Chesapeake Bay Wine Classic Foundation and the Virginia Beach Billfish Foundation.
The Virginia Beach Billfish Tournament is one of the most prestigious billfish events in the Mid-Atlantic region. It is held from August 23 to August 26 and features a four-day fishing competition, nightly parties, live entertainment, and a grand awards ceremony. The tournament benefits several local charities and conservation organizations.
For more information, you can visit the websites of the respective tournaments for a complete and up-to-date schedule.
North Carolina Report
If you are looking for some great fishing you have plenty of options to choose from on the OBX.
Soundside fishing has been hot, with some good-sized Speckled Trout, plenty of Drum and Bluefish, and some very good Sheepshead fishing on Bridges and other structure. Live Fiddler Crabs are enticing the Sheepshead bite.
Jennettes Pier is a popular spot for anglers who want to fish from the shore. The water temperature is 65° and the fish are biting. You can expect to catch Speckled Trout, Bluefish, Spot, Croaker and Sea Mullet.
The surf was rough last week, but some big Bluefish up to 10lbs, Drum, Sea Mullet, and Pompano were caught. The best of the surf fishing has been down south of Buxton.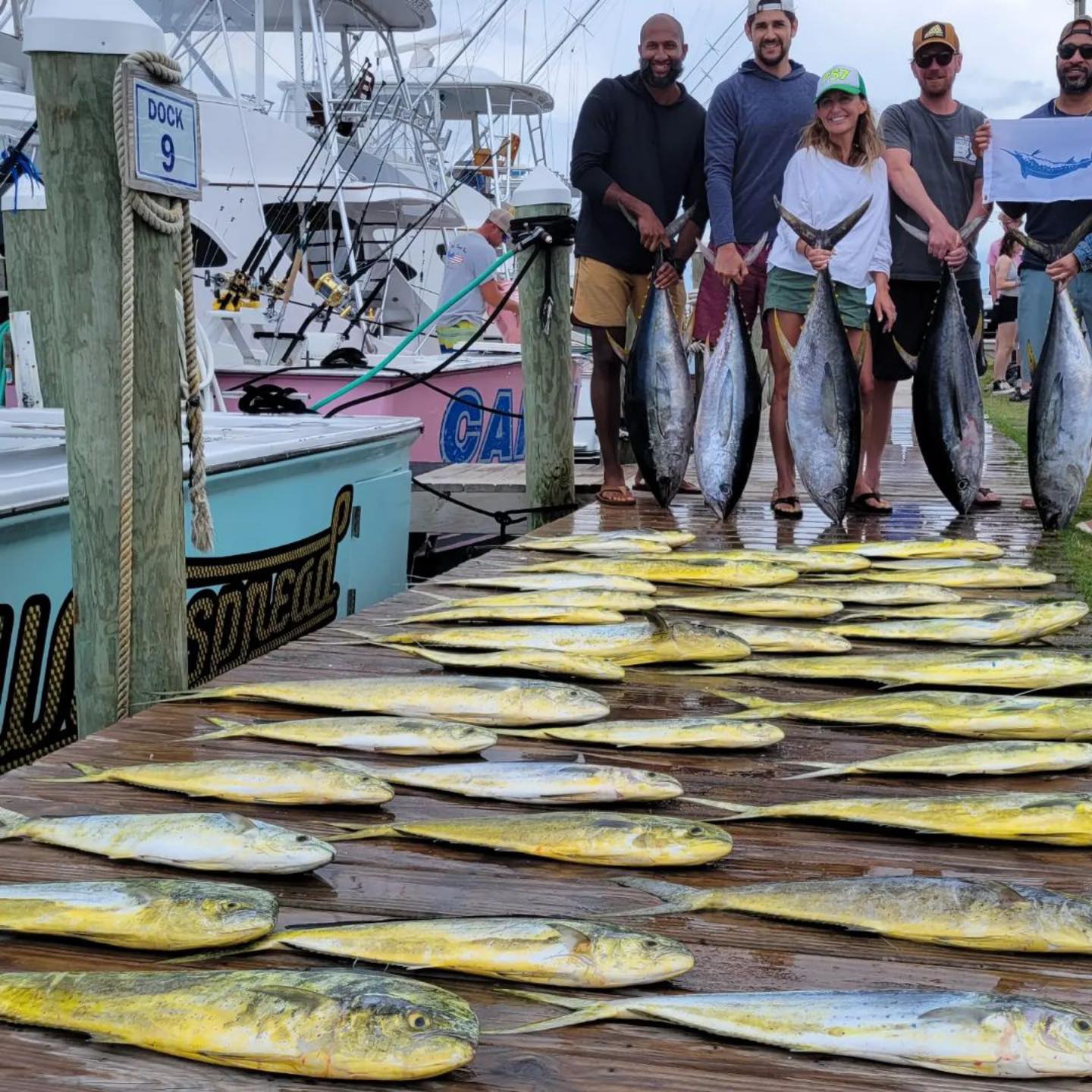 Offshore fishing has been amazing lately, with some boats landing limits of tuna before lunch. You can find Yellowfin Tuna, Dolphin, Wahoo, and a few Big Eye Tuna in the bluewater. If you are looking for a thrilling experience, book an offshore charter and get ready for some action.
RUDEE INLET CHARTER BOATS