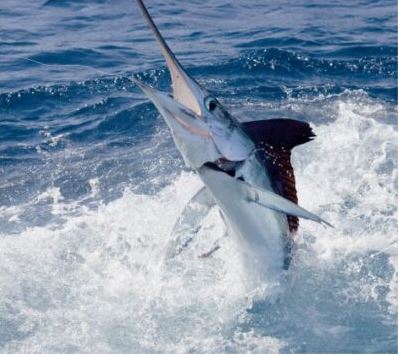 This is prime billfish season, marlin, sailfish, and swordfish. The offshore boats are having a blast. Tuna, dolphin and wahoo are also available.
The 50th White Marlin Open in Ocean City MD kicks off today. A number of Virgnia boats and crews will be participating. It's the world's largest and richest billfish tournament, with over $10 million in prize money up for grabs. The event runs from August 7 to 11 and attracts anglers from all over the world who compete for the coveted white marlin trophy.  The weigh-ins are open to the public and are a spectacle to behold, as huge fish are hoisted and measured on the scales.
If you're looking for something closer to home, you have plenty of options. Spanish mackerel, king mackerel, bluefish and sharks are keeping the inshore charters busy. These fish are fun to catch on light tackle, and they put up a good fight.
One of the favorite fish to target this time of the year is flounder. Our flounder season is officially on now, and we're seeing some nice ones coming in. Limits of quality fish are available. You can catch flounder in the bay or the ocean, but most prefer the bay. Look for them near drop-offs, channels and grass beds. Small live spot, croaker or mullet are your best bait, but they will also hit artificial baits like gulp or bucktails.
Another fish that's keeping anglers busy are cobia. Cobia catches are being reported throughout the lower bay. These fish are amazing to catch and eat. They can weigh over 100 pounds, and they fight like crazy. Live eels, live spot or croaker are your best bait for cobia too, but they will hit artificial baits when spotted on the surface. You can use sight-fishing techniques to locate them, or you can chum with ground menhaden.
Red drum are another fish that you can sight-fish for in the lower bay. Red drum are available and should continue to be the rest of the summer. You can catch them on cut bait, live bait or artificial lures.
Sheepshead are near structure in the bay. Sheepshead are being caught on structure using fiddler crabs or fresh shrimp. They're very tasty, but they're also very tricky to hook. You have to be quick and set the hook as soon as you feel a bite.
Speckled trout catches have been good recently, especially in the early morning or evening hours. You can find them in shallow water near grass beds or oyster bars. You can catch them on live shrimp, minnows or mullet, or on artificial lures like topwater plugs, soft plastics or jigs.
There are also some good-sized spots being caught in Chesapeake Bay tributaries now. Spot fishing peaks in August and September, and it's a lot of fun for kids and adults alike. Spot are small but scrappy fish that bite on bloodworms, squid or shrimp. You can catch them from piers, bridges or boats using bottom rigs with small hooks.
Virginia Beach Pier anglers are reporting roundhead and spot. Roundhead are also known as whiting or kingfish, and they're very good eating fish. You can catch them on bloodworms, squid or shrimp too. Spanish mackerel, blues and small sharks are always a possibility at the pier as well. Spanish mackerel and blues hit fast-moving lures like spoons or gotcha plugs.
Book your Virginia Beach fishing trip!