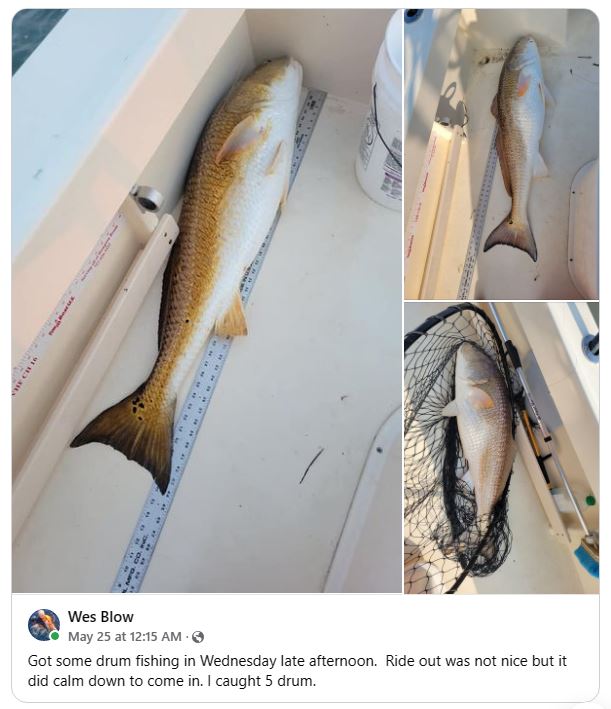 After the Memorial Day weekend wind and rain moves away, look for some good fishing action to kick in!
The water temperature at the Chesapeake Bay Bridge Tunnel is currently around 65 degrees, which means that the spring fishery is gradually shifting to the summer season. The fishing prospects are improving in almost every area.
Red and black drum are abundant on Bay shoals near the eastern shore such as the Nautilus area. These fish can grow very large and put up a strong fight. They can be best be caught with cut bait, crabs, or clams on bottom rigs.
Puppy drum are also available in Rudee, Little Creek and Lynnhaven Inlets, where they can be caught with cut bait, shrimp, or artificial lures (jigs, spoons, soft plastics). These fish are smaller than their adult counterparts, but they are still fun to catch and good to eat.
Another fish that has arrived in our waters is the cobia, which can be caught in the bay and along the oceanfront. The capture season for cobia begins on June 15th, until then its catch and release, bring a big net!  There should be plenty to target, some of them over 95 pounds, as one that size was caught in the surf on the OBX last week. The best way to catch cobia is by sight-casting with live bait (eels, croakers, spot) or artificial lures (bucktails, jigs, plugs).  When the season opens there is a 1 fish per person, 2 fish per vessel possession limit.
The flounder fishing should improve around coastal wrecks and along the CBBT, where these flatfish like to ambush their prey. Flounder can be caught with live bait (minnows, spot, mullet) or artificial lures (gigs, bucktails, soft plastics) on bottom rigs or jigs.
Sheepshead are another tasty fish that can be caught at the CBBT pilings and other structure in the lower bay. These fish have teeth that can crush shells and steal baits, so you need to use strong hooks and leaders and set the hook quickly. The best baits for sheepshead are clams, fiddler crabs, mussels, barnacles, and shrimp.
Striped bass and bluefish are around the CBBT islands, where they can be caught with cut bait or artificial lures (jigs, spoons, plugs). Some of the the stripers are small and can be kept for food, while others are larger and must be released.  The Chesapeake Bay spring striper season is May 16 through June 15. Minimum Size Limit: 20 inches. Maximum Size Limit: 28 inches. Possession Limit: 1 per person.
Spadefish should be arriving at the Chesapeake Light Tower, where they can be caught with small pieces of clam on small hooks. These fish are very strong and fight hard for their size.
Spanish mackerel have entered Virginia waters as well, and they will become more active and abundant as the water temperature reaches 70 degrees. These fish are fast and aggressive and can be caught by trolling or casting small spoons, feather lures, metal squids, or surface plugs.
The black sea bass season is open until July 6th, and then again from August 9th to December 31st. These fish are plentiful and delicious and can be found over wrecks and reefs in ocean waters. The Triangle Reef is a good spot to try for sea bass. They will bite squid, crab, cut fish, clam strips, shrimp or diamond jigs.
Tuna fishing has been good offshore to our south. Look for some Virginia boats to make the trip down and get in on the yellowfin tuna bite. Dolphin fishing has also picked up off the OBX, NC. Closer to home, tilefish and grouper are available for deep-droppers.
OBX, NC Fishing Report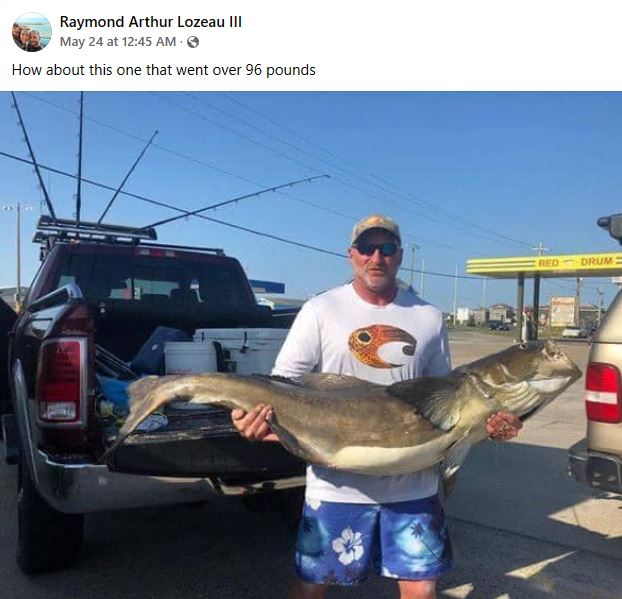 The fishing action on OBX is heating up as we enter the summer season. Whether you fish from the shore, the pier, or a boat, you can expect to catch a variety of species and have a great time.
On the sound side, drum and speckled trout are biting well near the inlet, especially on live shrimp and soft plastics. Sheepshead are also showing up around the Bonner Bridge, where you can catch them on fiddler crabs or sand fleas.
On the ocean side, bluefish and spanish mackerel are hitting metal lures and spoons along the beach and from the piers. Some big cobia have also been caught by sight casting or using live bait. Pompano, sea mullet, and black drum are also available for surf anglers using fresh shrimp or sand fleas.
Offshore, the bite has been excellent for dolphin, yellowfin tuna, and wahoo. Some bigeye tuna and blue marlin have also been landed by lucky anglers. Trolling with ballyhoo or artificial lures is the best way to target these pelagic fish.
If you are looking for an exciting fishing adventure book your trip with one of our experienced captains today. You won't regret it!
RUDEE INLET CHARTER BOATS