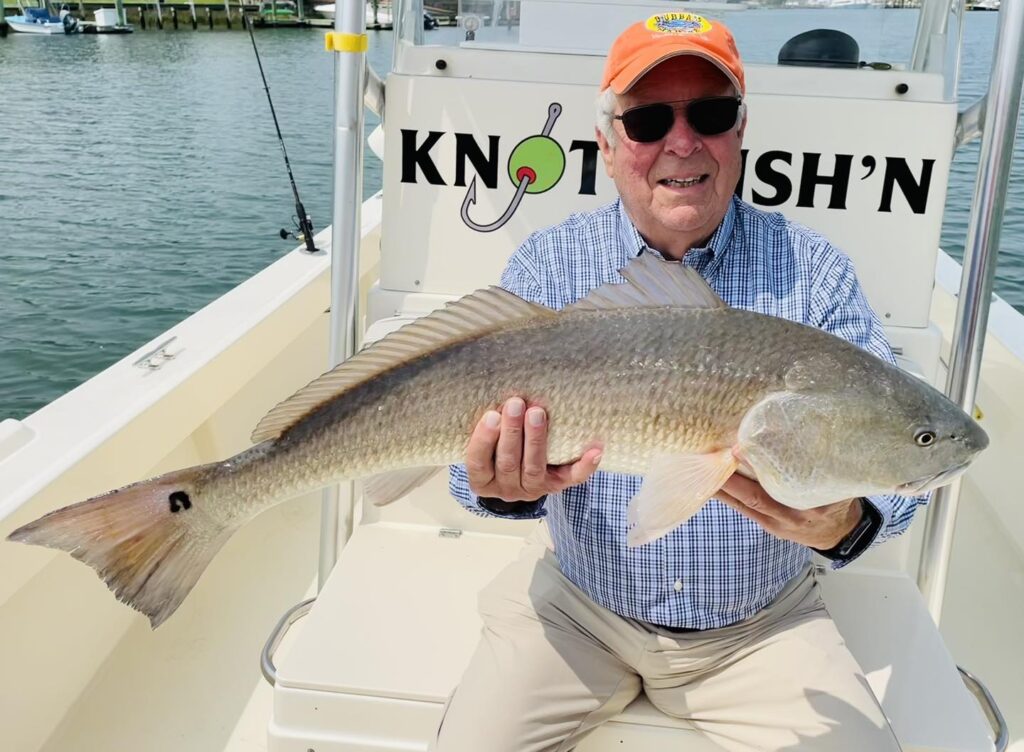 Virginia Beach is a prime destination in May and June for anglers who want to enjoy a variety of fishing opportunities. From trophy red drum to tasty sea bass, there is something for everyone in this diverse ecosystem.
Large red drum numbers are increasing in the Chesapeake Bay. Anglers fishing fresh cut mullet, crab, or fresh clam on the bottom are having success from the Chesapeake Bay Bridge Tunnel area to the Windmill Point area, near the Rappahannock River. Black drum are also available in the same areas. These fish can weigh 30 to 90 pounds and put up a strong fight.
The sheepshead bite slowed this week but that will change. Look for them feeding on structures inside the Bay, such as artificial reefs and rock islands and pilings of the CBBT. These fish have strong teeth and can crush crabs and barnacles with ease. They are also very tasty and can reach up to 15 pounds. The best baits for them are fiddler crabs, sand fleas, or clams.
Flounder catches were slow last week. It will pick up in early June. Flounder lie on the bottom and ambush their prey. They can be found in sandy or muddy areas near drop-offs, channels, or wrecks. They will bite live minnows, squid strips, or bucktails tipped with gulp baits. The minimum size limit for flounder is 16 inches and the daily creel limit is four per person.
Speckled Trout catches continue to increase in many areas. The Hampton area, Mobjack Bay, the Piankatank River, and Lynnhaven and Rudee Inlets are some of the hotspots for these fish. Speckled trout are also known as spotted seatrout or specks and they are one of the most popular gamefish in the Bay. They have beautiful spots on their sides and can grow up to 10 pounds. They will hit a variety of artificial lures, such as soft plastics, topwater plugs, or spoons, as well as live shrimp or mullet. The minimum size limit for speckled trout is 14 inches and the daily creel limit is five per person.
Puppy Drum are being caught in the same areas as speckled trout. Puppy drum are juvenile red drum that have not yet reached maturity. They are also called redfish or channel bass and they have a distinctive black spot on their tail. They can grow up to 27 inches and weigh up to 10 pounds. They will also take artificial lures or live baits, such as cut mullet, shrimp, or crabs.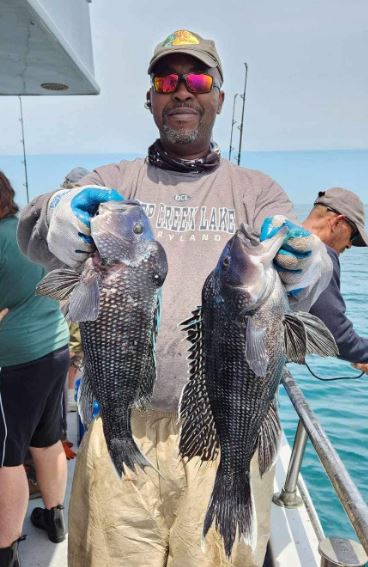 The black sea bass season runs through Jul 6th. And then again from Aug 9 through Dec 31. The Triangle Reef is a popular spot where you can find plenty of sea bass. They will bite squid, crab, fresh cut fish, clam strips, shrimp or diamond jigs. Black sea bass are small but feisty fish that have a dark coloration with blue accents. They are also very delicious and can be prepared in many ways. The minimum size limit for black sea bass is 12 inches and the daily creel limit is 15 per person.
The first spanish mackerel arrived along the Virginia Beach oceanfront last week. As water temperatures continue rising their numbers will increase. Spanish mackerel are fast and flashy fish that have green backs and silver sides with yellow spots. They can reach up to 30 inches and weigh up to 10 pounds. They are often found in schools near the surface and will chase small baitfish, such as silversides or anchovies. They will strike small spoons, jigs, or plugs trolled at high speeds.
The first schools of cobia have reached Virginia waters. The official season doesn't open until June 15th. Until then its all catch and release, a 50 inch release will earn you a Virginia Release Award Plaque. Cobia are large and powerful fish that have a brown coloration with a white belly and a dark stripe along their sides. They can grow up to six feet long and weigh up to 100 pounds. They are often seen swimming near buoys, markers, or rays and will eat live eels, bunker, croaker, or crabs.
The fishing report for OBX NC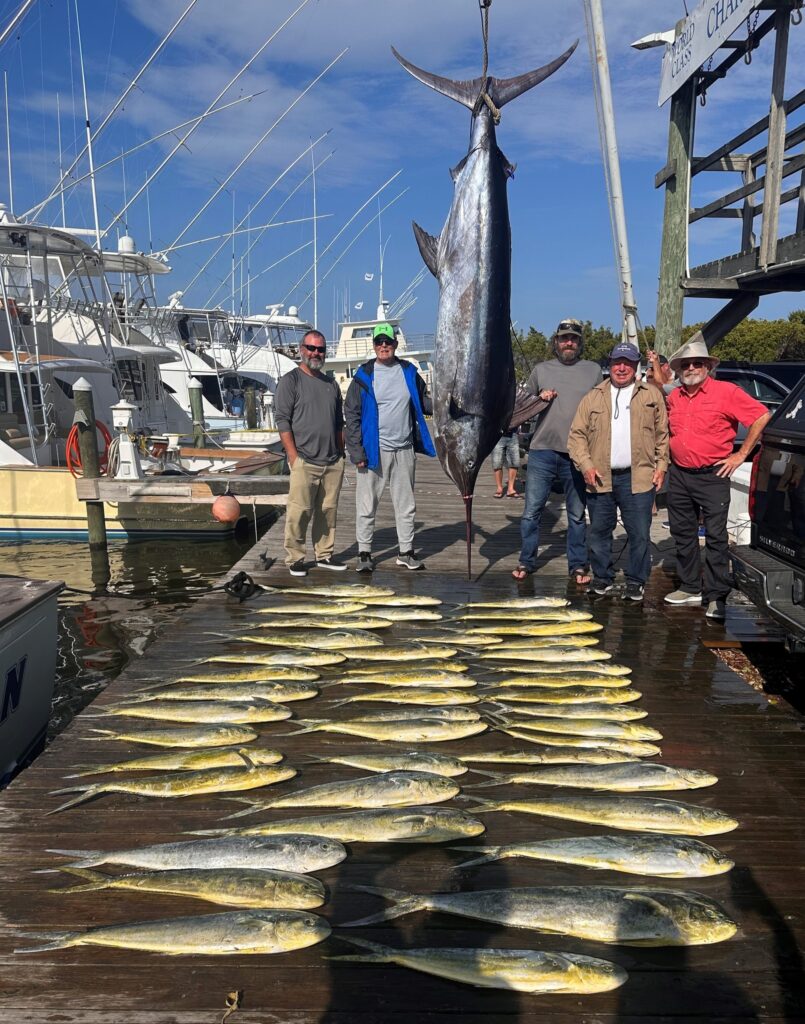 On the sound side, speckled trout are biting well and some have reached impressive sizes of up to 10.5lbs. Drum and bluefish are also abundant.
On the surf side, anglers can catch a variety of fish, including puppy drum, speckled trout, bluefish, and sea mullet. The northern beaches have more sea mullet, while the southern beaches have big red drum and pompano.
The piers offer a good chance to catch sea mullet, speckled trout, and bluefish. Spanish mackerel and bluefish are also running well after the water cleared up.
Offshore, the crews are having a great time with dolphin and tuna. Blue marlin are also showing up and being caught.
So what are you waiting for? Grab your gear and head to the water for some awesome action. You won't regret it.
RUDEE INLET CHARTER BOATS