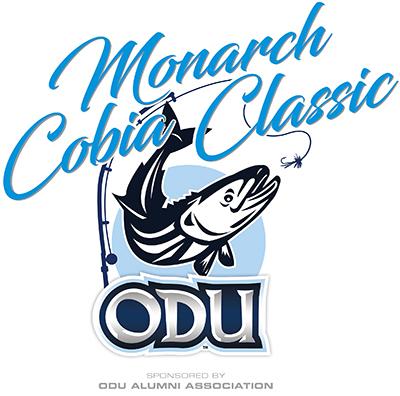 The (ODU) Old Dominion University Alumni Association will host its second annual Monarch Cobia Classic in partnership with the Peninsula Salt Water Sport Fisherman's Association July 19-21, 2018 at The Marina at Marina Shores in Virginia Beach. The goal of the  partnership is to create the largest cobia tournament on the east coast. The proceeds from the tournament will benefit the ODU Alumni Association Scholarship Fund.
The competition will consist of two days of fishing, with lines in at 6:00 a.m. each day. Anglers will compete for cash prizes, reels, rods, outdoor equipment and more. Before July 2, the entry fee per boat for the Monarch Cobia Classic is $400 for two days of fishing or $250 for a single day. After July 2, fees will increase to $500 per boat for two days and $300 for a single day.
The tournament will conclude with a Dock Party on Saturday, July 21, with live music and special guests including the Redskins Cheerleaders and Darcizzle Offshore, an avid angler and social media fishing sensation. Guests who are not registered for the tournament have the opportunity to purchase tickets to the
Dock Party for $50. Tickets must be purchased in advance at www.odualumni.org/cobiaclassic18.
"The Monarch Cobia Classic is a unique opportunity for the ODU Alumni Association to raise funds for student scholarships and to create a fun-filled event that will be enjoyed by alumni, friends of ODU and the Hampton Roads community," said Dawn Provost, '92, '98 MBA, president of the ODU Alumni Association.
Corporate sponsorships are also available. For more information about the tournament, media interviews or corporate sponsorships, call 757-683-3097 or visit www.odualumni.org/cobiaclassic.