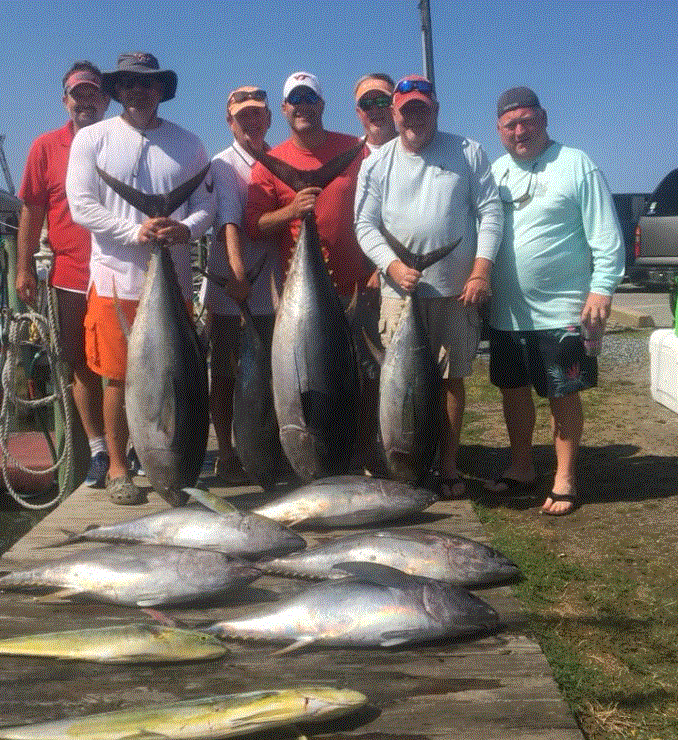 By TH Spangler | Connie Barbour
As Memorial Day rapidly approaches the spring saltwater fishery continues to improve almost everywhere.
Sheepshead are hanging around the CBBT pilings and other structure in the lower bay.
Red and black drum are plentiful on bay shoals near the eastern shore.
Cobia have enter our waters but our season is closed for a few more days, it opens June 1st. There are massive numbers to our south off of Nags Head, headed our way!
Striped bass and bluefish remain around the CBBT islands.
Spadefish should be available at the Chesapeake Light Tower.
There have been some nice size bluefish caught inside Lynnhaven inlet. Some puppy drum and sizable flounder are showing inside both Lynnhaven and Rudee inlets. The flounder should be available around coastal wrecks and along the CBBT anytime.
Flounder catches remain very good in the seaside inlets on the eastern shore. Some large striped bass are being caught in the surf on the eastern shore.
Tuna fishing is red hot to our south. A few Virginia boats have been making the run. Some very large yellowfins and lots of bigeye tuna are awaiting crews. Some of the yellowfins have topped the 90-pound mark. Dolphin and an occasional blue marlin round out catches. A little closer to home tilefish and grouper are being caught by deep-droppers.
Sea bass season is open and catches are good on the ocean wrecks. In seabass news, Dr Ken Neill reports that the sea bass regulations have been set again. As previously planned, we will not have a fall closure this year. This came in doubt when some northern states protested the sea bass plan, but that now has been resolved. Sea bass will remain open for the rest of the year with a 15-fish bag limit and a 12.5-inch minimum  size.
http://mrc.virginia.gov/regulations/fr950.shtm
Water Temps
Ches Bay Bridge: 71.0 F
Cape Henry: 71.0 F
Kiptopeke: 71.6 F
Duck NC Pier: 72.9 F
Oregon Inlet Sound side: 76.1 F
OI offshore Buoy @ 60 feet: 69.7 F
Hatteras Surf: 75.7 F
Diamond Shoals Tower: 74.3 F
Our next report will be Jun 4th.