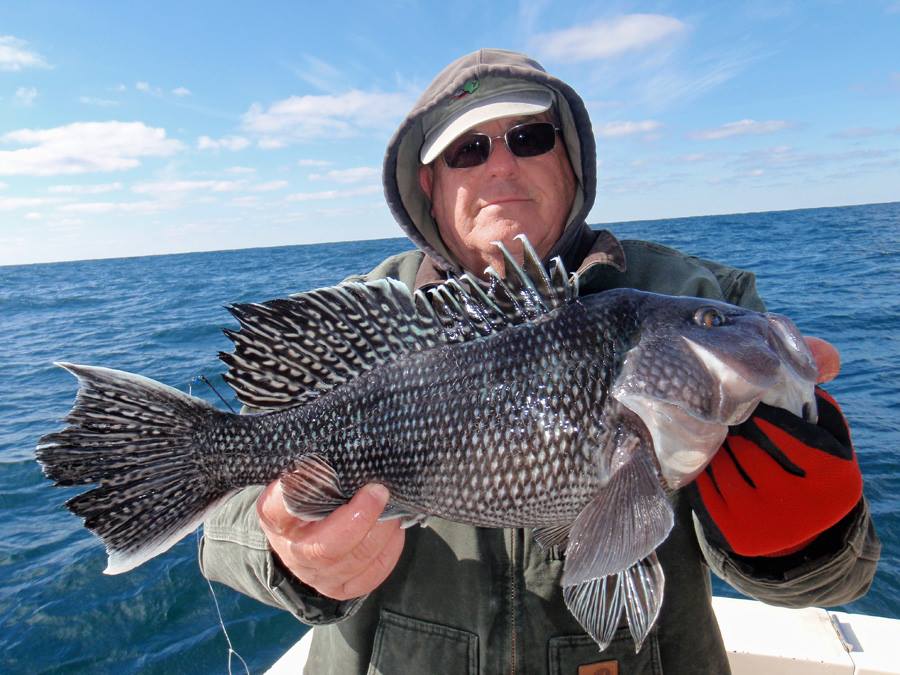 By VBSF Staff | TH Spangler | Connie Barbour
The Virginia black sea bass season opened Feb 1 and runs through Feb 28. Remember, a no-cost recreational species permit along with your regular license is required to catch sea bass. The head boats will be running trips; and we should have some good reports coming. In the mean time cod, large red hake, cunners and pollock have been keeping head boat anglers busy while fishing the ocean wrecks.
https://webapps.mrc.virginia.gov/public/mpermits/index.php
Recently Dr Ken Neill fished some ocean wrecks. On the ride out he said the boat became covered in ice from the spray. Once they arrived their destination the water was warmer and they were able to use buckets of it to thaw the deck so they could stand. They fished a number of wrecks, catching sea bass, tautog and spiny dogfish. Because of the numerous dogfish they were forced to use jigs on the sea bass. They targeted the togs with green crabs. They had three fish weigh enough for trophy-fish citations: two sea bass and one tautog.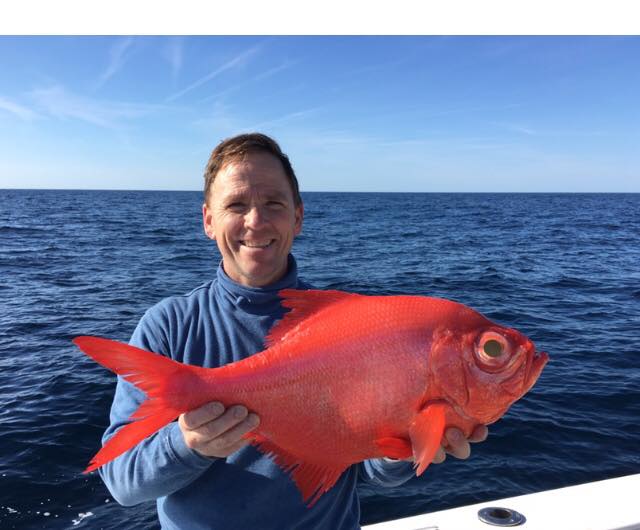 Beth and Kevin Synowiec fished the canyon January 27. On their first drop they caught two fish each, a large golden tilefish and some nice sized red hakes. They continued catching with each drop, with many producing two fish at a time They finished the day with large red hakes, golden tile fish, a large black belly rose fish and a alfonsino fish.
On North Carolina's OBX beaches the fishing slowed a bit with just a few reports of slot red drum coming from near Hatteras Inlet and some black drum and red slot drum from near the Frisco Pier.
Offshore there has been a few blue fin tuna and some limits on yellow fin tuna.
Cape Charles Water Temperature: 39.7 F
Cape Henry Water Temperature: 39.6 F
Kiptopeke Water Temperature: 37.8 F
Duck NC Pier Water Temperature: 40.8 F
Orogen Inlet Surf Water Temperature: 43.7 F
Hatteras Inlet surf Water Temperature: 50.7 F
Be cautious while running offshore. The endangered right whales are active off the Virginia North Carolina coast from November to April. You can read more: http://www.nmfs.noaa.gov/pr/shipstrike/