Inlet Station Marina
308 Mediterranean Ave
Virginia Beach, Va 23451
Phone: (757) 748-0488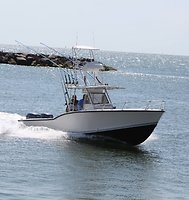 Welcome anglers and vacationers to spectacular Chesapeake Bay and Virginia Beach fishing with Captain Kevin Perry aboard Afishinado. Offering the finest inshore action available for popular species including striper and flounder.
Virginia Beach is one of the world's largest resort cities and is a top sport fishing destination. The water off of the mid-Atlantic east coast is one of the best saltwater angling regions in the world. Visitors wanting to fish either off the coast or on the Chesapeake Bay can charter Afishinado for their trip, and can have a chance at catching flounder, cobia, drum, and many other species.
We are kid-friendly, and the whole family can have a chance of catching big trophy striper, a fish that is not only fun to catch, but awesome on the dinner table. You also have a chance at hooking up with cobia, drum, bluefish, and a host of other well known species that call this region home.