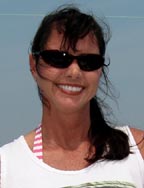 By Dr. Julie Ball
VBSF.net fishing report contributor and IGFA Representative, Virginia Beach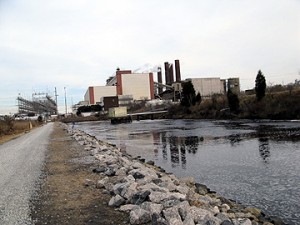 I was invited by Dominion Power to attend a media briefing/fishing event at the Hot Ditch this week. The event was hosted for outdoor writers from the area in order to highlight the company's new policy for fishing on Dominion property. The Virginia Institute of Marine Science (www.vims.edu/) also highlighted their tagging program. I joined five other area writers, including good friends Don Lancaster and Lee Tolliver, to check out the Hot Ditch scene. I met the Company's officials, Marine Police Officers, and Jon Lucy's replacement at VIMS, Susanna Musick. Jon Lucy (who I have fished with several times) also attended to help with the transition, of course!
As most anglers know, the popular Hot Ditch is an artificially created haven for many species of fish due to the relatively enclosed nature of the area near the Power Plant's hot water discharge. Many huge speckled trout are caught in this area, along with hoards of puppy drum during the winter months. This fishery is limited to past and present Dominion Power employees and their guests. After watching coolers fill with breeder-sized trout over the last year, company officials decided to change their policy beginning in the fall of 2010 to strictly a catch and release fishery.
We had a wonderful lunch and fished in the Ditch for a few hours. Although it was a cold and windy day, we had a blast fishing together, tagging and releasing puppy drum and speckled trout.
The company hopes the new catch and release policy will help preserve the incredible trout and drum fishery in the Hot Ditch area. Other policy makers are watching too. There's discussion now of implementing more stringent management of speckled trout all along the Elizabeth River, which spills into the Hot Ditch.
The trend towards catch and release fishing is becoming more popular in many regions. The IGFA (www.IGFA.org) recently announced their new World Record Release program, which is mostly a response to popular demand, and the ultimate answer to allowing an option to promote conservation while still earning an IGFA World Record. There are mixed feelings about the program from the community, and official IGFA measuring devices and rules are a must.
Catch and release seems to be the trend of the future, and may be a necessity to preserve the future! And with more anglers beginning to voice their opinions about fisheries management issues, pressure from the community will surely influence new policy. Become involved if you want to make a difference!