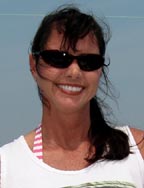 Chesapeake Bay, Coastal Waters Out To The Towers.
By Dr. Julie Ball
VBSF.net fishing report contributor and IGFA Representative, Virginia Beach
The weather feels more like a roller coaster ride than a forecast lately. This past week's spell of moderate conditions pushing to over 70-degrees compelled some folks to get out on the water.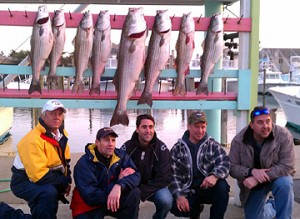 With the recent rise in daytime temperatures, anglers are hopeful that this will also help push water temperatures up enough to encourage the striped bass to inch closer to local waters again. As for the word on the water lately, folks are still traveling south to catch nice fish to over 40-pounds just off the Carolina Coastline. Several boats are reporting catches within the 3-mile line this week, with plenty of bait and birds to show the way. Chesapeake Bay catch and release activity is on and off again. School-sized rockfish are reportedly taking lures cast around the structure of the HRBT, especially along the light lines at dark.
Optimistic flounder hunters are watching the calendar closely, as the first wave of spring flounder often debuts in mid March. The regulations this year have flounder pounders optimistic, with no closed season, and a bag limit of 4 fish per person at a length of 17.5-inches.
A few boats were able to sample the offshore tautog population this week with some decent results. Although nothing huge was reported, some keepers with a few scattered citations are keeping anglers interested. Most are using clams or frozen crabs since blue crabs are hard to find right now. Cod, a fish popular in more northern regions, are also hitting bait intended for tog. Don't throw these fish back, they make great table fare!
The Elizabeth River is still giving up speckled trout, with many folks reporting good catches of smaller fish, along with a few keepers. A few nicer fish are also scattered about, ranging to around 24 to 30-inches. John Waugh of Virginia Beach scored with a nice 9-pound speck while working a plug in the Elizabeth River this week. The best catches are still coming from casting lures and jigs. If you are able to fish within the hot ditch discharge area, many big speckled trout are providing very good catch and release action. Scattered schoolie stripers and a few puppy drum are also providing entertainment in these same areas.