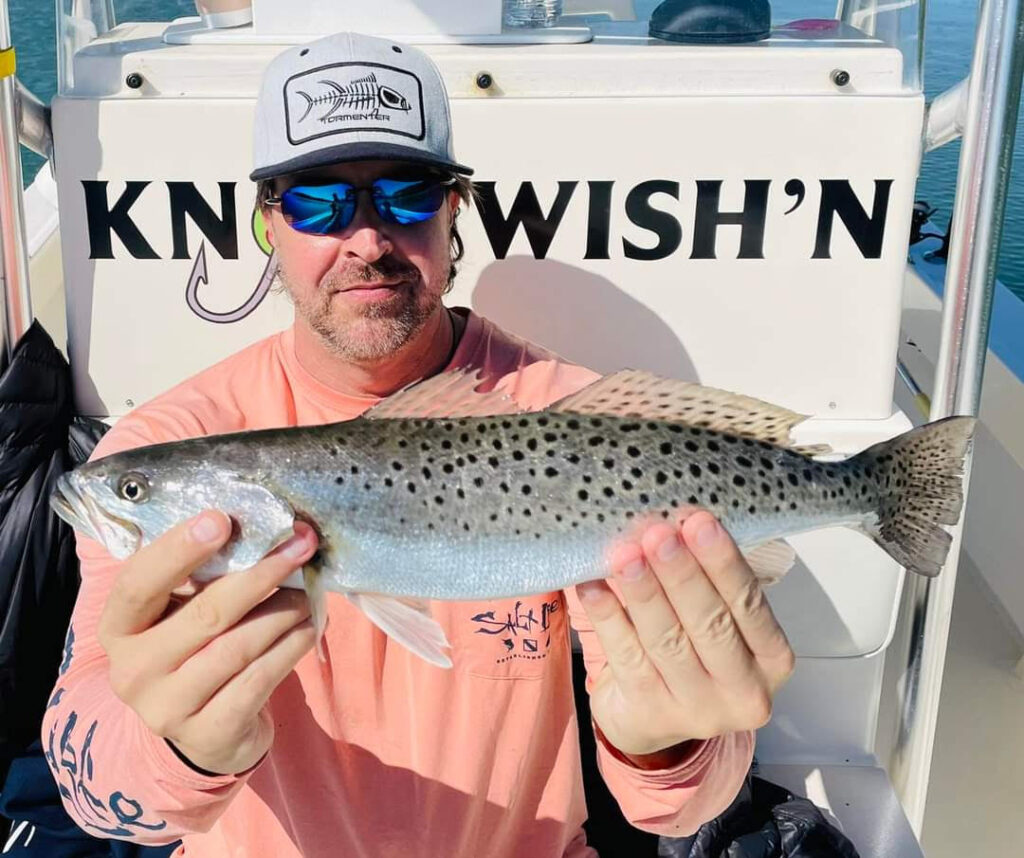 If you are looking for some fishing action in Virginia Beach, you have plenty of options to choose from in May. Whether you want to fish in the Bay, the inlets, the oceanfront, or the offshore waters, you can find a variety of fish to catch and enjoy. Here are some of the latest fishing reports and tips to help you plan your next fishing trip.
Puppy drum are being caught inside Lynnhaven and Rudee Inlets. These spots are also holding a few speckled trout. You can use soft plastic baits, jigs, or live bait to catch these fish. Look for them in shallow water near grass beds, oyster bars, or docks.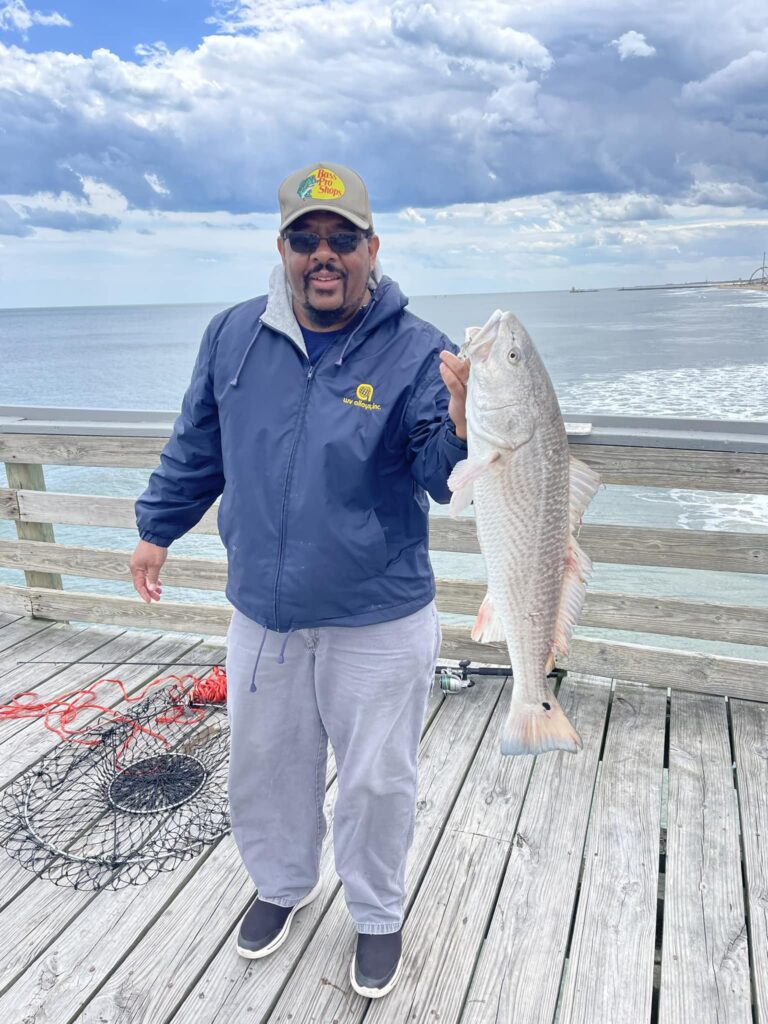 Virginia Beach Pier Anglers are catching drum, small trout, round head, skates and small croaker. You can use cut bait, shrimp, squid, or bloodworms to catch these fish. While most being landed are much smaller, black drum can grow up to 113 inches and weigh over 100 pounds, while red drum can grow up to 60 inches and weigh over 90 pounds. Trout are either speckled or gray (also called weakfish). Gray trout can grow up to 37 inches and weigh over 19 pounds, while speckled trout can grow up to 39 inches and weigh over 17 pounds. Croaker can grow up to 20 inches and weigh over 5 pounds.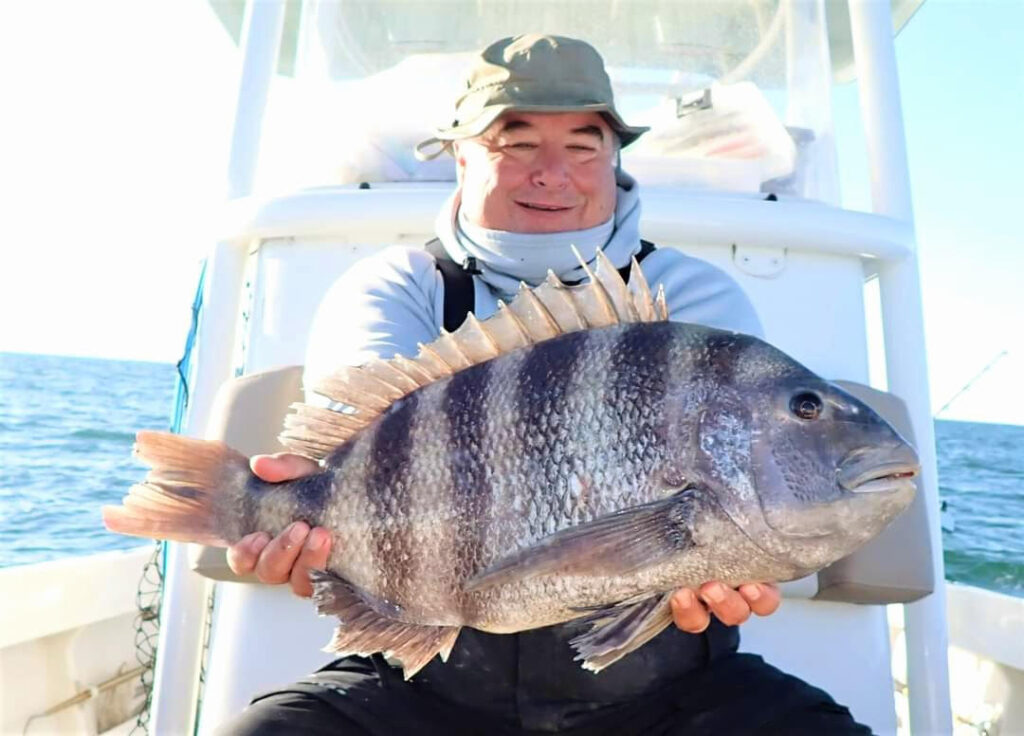 Sheepshead and tautog are at the Chesapeake Bay Bridge Tunnel (CBBT). Crab fished tight against structure is the bait and method of choice. These fish are both bottom feeders that have strong teeth for crushing shells. They like to stay near structure, such as wrecks, reefs, rocks, and bridge pilings. Sheepshead have black and white vertical stripes on their body and can grow up to 36 inches and weigh over 21 pounds. Tautog have a dark brown or black color with white blotches on their body and can grow up to 36 inches and weigh over 25 pounds.
Black and red drum are in the Bay at their usual locations. Crab and clam are the best bait for these fish. You can find them by looking for boats anchored near Kiptopeake, the Cabbage Patch, the Concrete Ships, or Fisherman's Island. You can also spot them by looking for their tails sticking out of the water when they feed in shallow water near Latimer Shoal.
Flounder fishing is picking up in the lower Bay. You can find them inside inlets, in shallow water near grass beds or drop-offs, or deep near the CBBT. A squid and minnow combo is a classic bait, but you can also use live spot or strips of bluefish or flounder belly.
Rockfish season for the Bay and its tributaries opens May 16 thru June 15. The minimum size is 20 inches, and the maximum size is 28 inches. The daily limit is one per person. The ocean season also opens on May 16, and is open through Dec 31. The minimum size is 28 inches, and the maximum size is 36 inches. The daily limit is also one per person. Rockfish are also known as striped bass or stripers, and they are one of the most popular game fish in Virginia. They can grow up to 60 inches and weigh over 70 pounds.
Black sea bass season opens May 15th. You can catch them on ocean wrecks using squid, cut bait, jigs, or artificial lures. Sea bass are also called black sea bass or humpback sea bass, and they have a dark color with white spots on their body. They can grow up to 25 inches and weigh over 9 pounds.
Tilefish are being caught offshore at the canyons using squid or cut bait on deep drop rigs. Tilefish are also called golden tilefish or blueline tilefish, depending on their color variation. Boats trolling the edge are finding some tuna and dolphin as well.
OBX, NC
If you are looking for a great fishing experience on the Outer Banks, you will not be disappointed by the variety and abundance of fish that are available on the beach, the piers, and the sound in May. You can catch big bluefish, puppy drum, sea mullet, black drum, speckled trout, and even some Striper from the shore. Some anglers have also reported spanish mackerel and cobia on Ocracoke Island.
The piers are also a good option for fishing, especially for puppy drum, bluefish, and sea mullet. The water temperature at Jennettes Pier is around 60 degrees.
If you prefer to fish on the sound side, you can find some nice drum near the inlet, with some of them exceeding the slot limit. There are also plenty of bluefish up to 6 lbs and some speckled trout to keep you busy.
Offshore fishing has been excellent in the last few days, with calm seas and clear skies. The boats have been bringing in yellowfin tuna, dolphin, wahoo, king mackerel, and even some billfish.
So what are you waiting for? Book your charter today!
RUDEE INLET CHARTER BOATS