This is prime billfish season along the mid-Atlantic coast. White and blue marlin, sailfish, spearfish and swordfish are all available. Dolphin, wahoo and tuna fishing is excellent many days.
The 26th Annual Virginia Beach Open Marlin Tournament was held last week. Congratulation to the winners.  Here's the run down.
1st Place– Sniper
2nd Place– Short Rigger
3rd Place– Freestyle
Top Tuna (65.1)- Sniper
Top Dolphin (16.5)- Mercenaria
Top Wahoo (39.6)- Desperado
Top Lady Angler– Alexise Congdon (Short Rigger)
Now everyone is looking forward to the 19th Annual Virginia Beach Billfish Tournament August 24-27 at Rudee Inlet.   And to our north, the White Marlin Open in Ocean City, Maryland starts Aug 8th and runs thru the 12th.   The WMO tournament awards prize money for white marlin, blue marlin, tuna, wahoo, dolphin and swordfish. Last year the event drew 444 boats, over 3,500 contestants, and paid out over $9.2 million dollars in prize money including the top individual awards of $3.2 million. Good luck to all the Virginia Beach crews fishing the Open.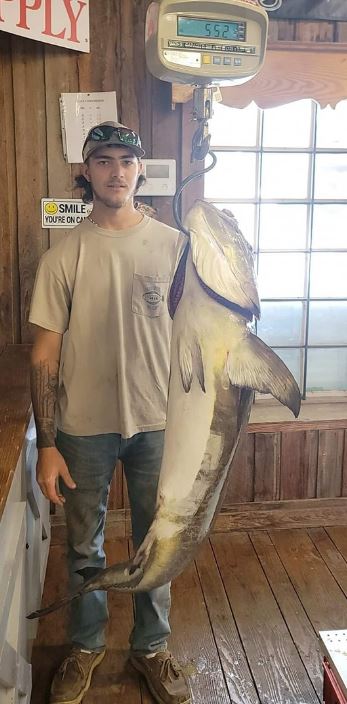 Inshore, outstanding cobia catches are being reported throughout the lower bay. Some really large ones have been landed recently, a few approaching 80 pounds. Live eels, live croaker are your best bait but they will hit artificial baits when spotted on the surface.
Spanish mackerel and blues are keeping charters busy. A gold Clark or Drone spoon seems to be working best. Mixed in with the spanish and blues are large numbers of ribbonfish. And don't be surprised to pick up a nice king now.
Our flounder season is officially on now, quality fish are being weighed. Jigging bucktails dressed with strip bait or a scented Gulp work well. But remember big fish like big bait. A live spot should do the trick.
Connie at Long Bay Pointe Bait and Tackle says red drum are available along the channel above the 3rd and 4h islands of the CBBT.  They should continue to be available the rest of the summer.
Spadefish are around buoys and structure, Connie said they started biting much better in recent days.
Sheepshead are feeding on most bridge structures. Marsh crabs attached to a jig head will do the trick.
Speckled trout catches have been good recently on the flats and in rivers.
Good numbers of spot are starting to be caught in Chesapeake Bay tributaries. Spot fishing peaks in August and September.
The Virginia Beach Pier reports a nice variety of fish. Roundheads, rays, spot, blues, flounder and spanish.
Until next week, remember to book a VBSF sponsor and send us your pictures for our next report.
RUDEE INLET CHARTER BOATS