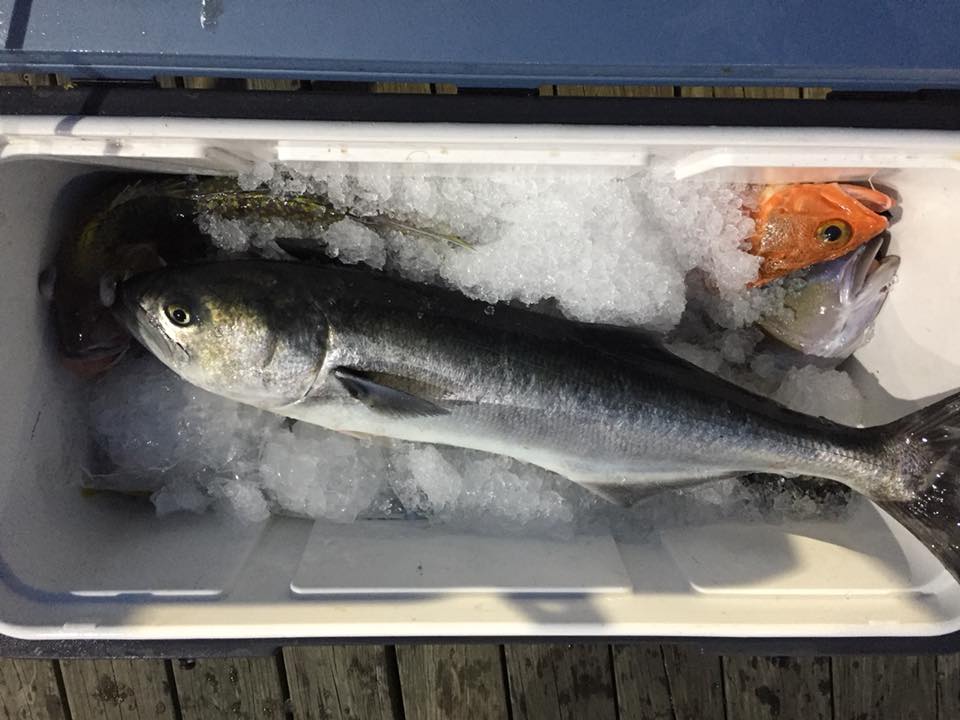 By TH Spangler | Connie Barbour
Many of our spring species have found their way to the Chesapeake Bay and our coastal waters.
Our tautog action is still good and should remain so through the close of the season. The Tog season closes from May 16 thru June 30.
Red and black drum are here in numbers and fishing for them should continue to improve over the next few weeks. Fishing fresh crabs, clams or live bait produces the best action. Remember, all red drum over 26 inches must be released. So far the best action on both red and black drum is coming from the Eastern Shore.
The Eastern Shore inlets near Assateague, Chincoteague Oyster and Wachapreague are the hot spot for flounder right now. Anglers drifting flounder rigs across shallows are hooking keepers. A flounder rig with a minnow tipped with a strip of squid works well. Some flounder are also available around Rudee and Lynnhaven inlets.
Striped bass and bluefish are hanging around the bridge tunnel islands. The bay's spring striped bass season opens May 16. The small striped bass must meet the 20-inch minimum size. Anglers will be able to keep two striped bass each measuring between 20 and 28 inches. One of these two fish may be longer than 36 inches, as the trophy season will still be open. A permit is required for any fish larger than 36 inches and you must report the catch. There is not a special permit or reporting required for the 20- to 28-inch fish.
Sheepshead and spadefish have arrived. Look for the sheepshead on  structure and around the bridge tunnel piles, and the spades around bay buoys and the light tower.
Croaker have shown up under piers on the lower bay and in the York River.
Anglers have started catching cobia off Hatteras and the fish should start arriving in Virginia waters any day. The Virginia season does not open until June 1. Our cobia season should peak around the same time as the Monarch Cobia Classic, scheduled for July 19-21.
Offshore a few bluefin tuna along with bigeye and yellowfin tuna are available for anglers making the long run to the southeast. A few Rudee inlet charter boats are making the run. Fishing should pick up closer to home in the coming weeks. Deep-dropping is producing plenty of blueline tilefish and some big golden tiles. A few snowy grouper and bluefish have also  been boated. The Rudee Angler has been enjoying some great deep drop action lately!
On North Carolina's Outer Banks the red drum fishing continues to be good around Hatteras Island. Surfcasters are  catching bluefish, speckled trout, puppy drum, blow toads, a few striped bass and lots of skates.
In the sound, speckled trout and small striped bass have been caught on the Manteo Nags Head causeway bridge.
Boaters are finding cobia off Hatteras Inlet. That action is only going to get better in the coming weeks. Coastal wrecks should be holding amberjack, spadefish, triggerfish and sea bass.
Yellowfin and blackfin tuna are providing outstanding action for boats sailing from both Oregon and Hatteras inlets. Dolphin numbers are on the rise. The season's first billfish and wahoo have been boated.
Anglers are reminded to use caution while navigating through Rudee, Oregon and Hatteras Inlets, as shoaling continues to be a big problem.
Water Temps
Cape Henry: 65.7 F
Kiptopeke: 65.1 F
Duck NC Pier: 57.4 F
Oregon Inlet Sound side: 73.6
OI offshore Buoy @ 60 feet: 60.6
Hatteras Surf: 70.7 F
Diamond Shoals Tower: 71.6 F