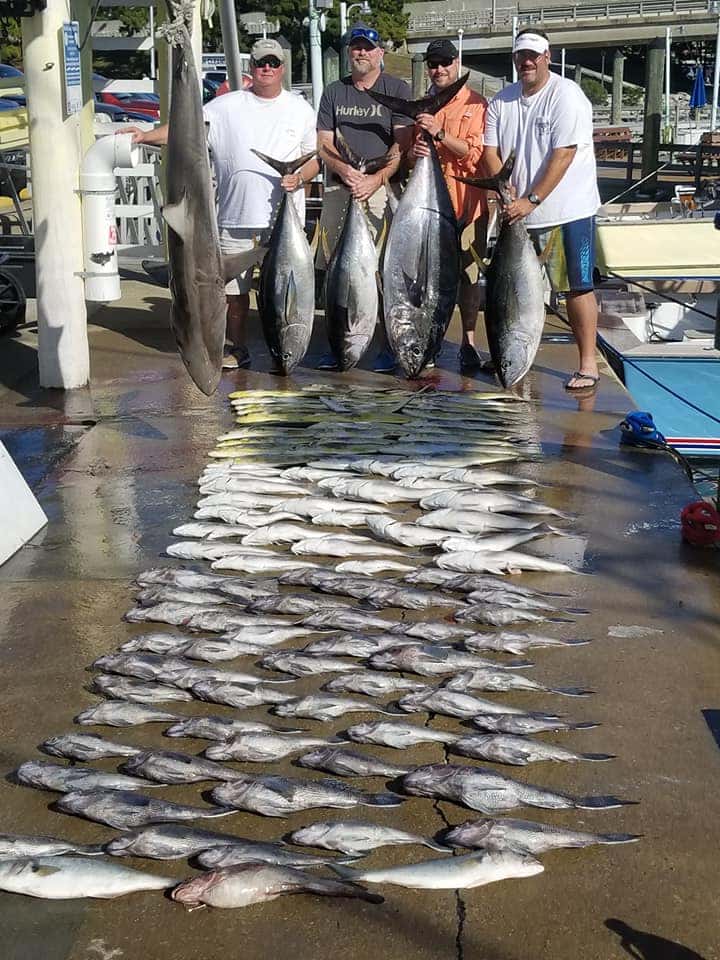 Long Bay Pointe Bait and Tackle reports the trout fishing was very good inside Lynnhaven Inlet last week. The action should continue through November. Rudee Inlet is also holding trout and puppy drum.
The Virginia striper season is open but action is slow. Things should pick up as the weather continues to cool. A few catches are coming from around the islands on the CBBT, inside the James River and near the James River Bridge. Night fishing and first daylight have produced best. Try top water poppers at dawn. The CBBT structures are also holding red drum. But the best drum action has come on cut bait or live bait fished on the bottom. Beth and Kevin Synowiec made a quick trip out on the bay and caught a two-person limit of 24 to 26-puppy drum and released 3 more to 49 inches.
Anglers have been doing pretty well with tautogs on the rocks of the CBBT. The togs prefer crabs. Live green crabs are best and some tackle shops carry them.
Several boats have ventured out to the Norfolk Canyon recently. Captain Jake Hiles did an overnighter and his crew caught 50 sea bass, 30 tilefish (two citations). They found some dolphin and bailed 35 mahi. They registered several hammerhead shark release citations and boated a 100-pound spinner shark. Early the next morning they trolled and added 3 citation yellow fins and closed out the trip with a 161 pound big eye tuna. Captain Justin Wilson successfully targeted swordfish on a recent trip.
Down on the Outer Banks of North Carolina the trout fishing has been very good both ocean side and sound side. A few flounder are being caught as well.
The offshore boats from Oregon Inlet reported limits of yellowfin tuna. The mahi fishing has picked back up again, with some days producing limits. A few blackfin tuna have been in the mix as well.