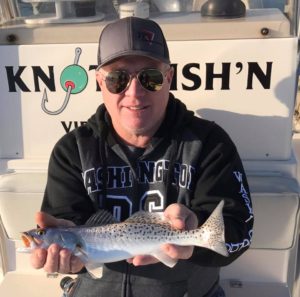 The speckled trout season is picking up and fish are showing on the Poquoson Flats and in most Eastern Shore Bay side inlets.
Flounder catches have been good in the Bay; the flatfish are on the move to deeper waters. Fish are being taken inside Lynnhaven and Rudee inlets, but the larger fish are around wrecks along the coast. Anglers fishing the wrecks are picking up some triggerfish.
Yellow belly spot are starting to show around the Hampton Roads Bridge Tunnel, Ocean View and in the inlets. If the early part of the season is any indication this could be a banner year.
Bluefish are abundant throughout the area. Shark action has been outstanding.
The Chesapeake Bay striped bass season opens today. There are plenty of school-sized fish available.
Virginia pier action includes croaker, small spot, sea mullet, small flounder and a few small gray trout. Piers anglers can expect a few cobia and red drum.
Offshore the white marlin season draws to a close but anglers fishing over night will be taking some swordfish. There's some warm water just east of the canyon and some tuna, wahoo and dolphin could remain where warmer waters are found. Deep droppers will find plenty of tilefish. The sea bass season is closed until Oct. 22.