LINK — VIRGINIA SALTWATER TOURNAMENT LEADERS
With a watchful eye on tropical developments to the southeast, local anglers continue to enjoy the developing fall fisheries along the Mid-Atlantic. But, don't dismiss the summer faves just yet. Intercepting these fish as they prepare to depart the area can provide some good opportunities for anglers.
Cobia are on the move as they prepare to head south, igniting some outstanding top water action for this last week of cobia season. Several boats reported hooking up to a dozen fish per day recently, with several cobia exceeding 50-pounds. Until next year.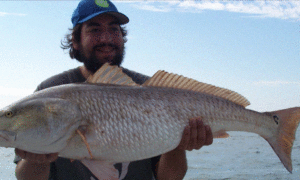 Big red drum are still roaming about the lower Bay shoals and barrier islands, and it is also time for reds to begin showing more activity around the artificial islands of the CBBT. Fresh cut bait and live bait work well for this area. Big bull reds can debut in the surflines along Sandbridge and the Wildlife Preserve at any time. A northly blow can jump start some good drum surf fishing action.
Spanish mackerel are still chasing trolled spoons in the clearer water off the Virginia Beach ocean front and Cape Henry, with some nice Spanish to show this season. But the most exciting news on the ocean front is the incredible king mackerel run, which is the best this area has seen in years. True smoker kings are crashing both live and trolled baits, with several kings hitting the docks weighing over 50-pounds, or more.
Anglers are findings some respectable flatfish as the they continue to gather at the mouth of the Bay in preparation for migrating to deeper water. Boats working Lynnhaven and Rudee Inlets are finding scattered catches of decent sized keepers. Offshore and inshore wreck flounder action is very good, with nice flatties averaging to around 23-inches taking fresh strip bait. Expect sea bass as a by-catch, along with triggerfish on these wrecks, but keep in mind that seabass season closes on the 21st this month.
Big sheepshead will continue to linger on the structure of the Bay Bridge-Tunnel over the next few weeks, along with decent triggerfish. Tautog action is rekindling for the fall trend, with the season reopening on the 19th this month. Remember you can keep up to three fish stretching to at least 16-inches.
Improving speckled trout catches are drawing more attention from anglers. If you can sneak your offerings past the hungry puppy drum, good numbers of specks are biting in areas such as Hungar's Creek, the Poquoson Flats, and Mobjack Bay. Also, Lynnhaven, Rudee, and Little Creek Inlets, along with the Elizabeth River are also giving up some fish, with some specks weighing in at over 4-pounds.
Some big yellow belly spot are hitting in Lynnhaven and Rudee Inlet, and around the lower Bay. Fish pushing to ¾-pound are also coming from around Little Creek. The lower Bay Rivers, the Hampton Roads Bridge Tunnel, Ocean View, and along the Virginia Beach oceanfront are also holding nice spot lately. Local piers are reporting good action, especially after a stiff north or easterly blow. Large croaker are lurking in deeper areas along channels, inlets, the Bay Bridge Tunnel, the Monitor-Merrimac Memorial Bridge-Tunnel, and the Concrete Ships off Kiptopeke. Both spot and small to medium sized croaker are also responding inside Magothy Bay near buoy 262, and out of Oyster.
Amberjack are still active at the Southern Towers through October. Deep droppers are having good luck near the Canyon edges with limits of nice blueline and golden tilefish and jumbo seabass. Grouper and barrelfish are also adding to the deep-water variety.
Offshore, billfish are still providing good action. Even though the bite varies from day to day, white marlin along with scattered blue marlin, and good numbers of bailer and gaffer dolphin are the main event. A few tuna are around, but they are scattered.