Cobia are going out with a bang. On clear days, sight-anglers are finding them in groups as they prepare to migrate out. On windy, NE blow days, chummers are having a field day. Enjoy them now as the season closes after September 15. If you have a recreational cobia permit and have not filed a catch report, do so by the end of September if you want to be able to get a permit in 2018. Even if you did not catch a single cobia on your permit, report that.
The spot bite is the best we have had in years. They are throughout the lower bay and up in the rivers and seem to be getting bigger by the week. All of the fishing piers are having good spot runs. It should be a great September of spot fishing as long as the tropics leave us alone.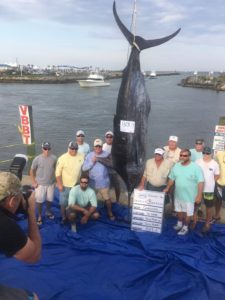 Flounder are being caught in good numbers in the bay but the best fishing is around the coastal wrecks where limit catches are being made. The Triangle Wrecks have been good. Triggerfish are thick on some of the wrecks and good numbers continue to be caught at the CBBT. This is a great time to catch big sheepshead at the CBBT.
Fall is a good time to catch sea bass on the coastal wrecks but be aware of a one-month closure that tends to sneak up on us. Sea bass is closed from September 22 through October 21.
Big red drum are being encountered by anglers looking for cobia at the bay mouth and along the oceanfront. Big, fat drum are also staging at the CBBT.
Big king mackerel have made a showing along the ocean front along with some jack crevalle. Spanish mackerel continue to be abundant along the oceanfront and in the lower bay.
Puppy drum fishing is good and some nice speckled trout are being caught in the shallow areas. Poquoson Flats and Goodwin Island have both been good areas.
Offshore, it is billfish time. The white marlin bite is reaching its seasonal peak. Some big blue marlin are being caught. Decent number of sailfish and spearfish are also being caught. Dolphin, wahoo, and yellowfin tuna are all around and the occasional bigeye tuna is being caught. Those that try are having success with swordfish.