The summer heat is becoming more bearable as summer winds down, and the fishing scene is transitioning as we move towards fall.
Flounder action is up and down this week, but on the better days, anglers are finding enough keepers to hold their interest. Both live-baiters and drifters are finding their luck mostly in the southern portion of the Bay. Flatties are hitting along the CBBT structure, mostly south of the 4th island, along the edges of the boat channels, and on lower Bay wrecks. Some decent flatfish can still be found on inshore and offshore wrecks. Nice keeper sized seabass are also providing good action on many offshore structures. Local inlets are giving up some keeper fish, with many ranging up to 22-inches in both Lynnhaven and Rudee Inlets.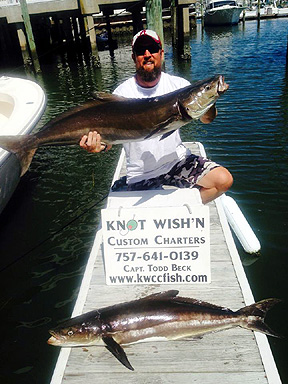 Cobia action is still good, with pods of fish becoming more common on the surface in the lower Bay as they prepare to depart local waters. Anglers are also spotting fish along tide lines, under schools of rays, and circling navigational beacons. Some catches are pushing to well over 50-pounds this week, with sight casters leading the way with some hefty fish. A few die-hard chummers are also scoring with some decent fish lately. Red drum continue their late-summer trend, with good action around the 3rd and 4th islands of the CBBT, as well as the Nine Foot and Latimer Shoals areas.
Along the Virginia Beach Oceanfront, trollers are still finding some accommodating Spanish mackerel while working areas from Cape Henry to Sandbridge. Small gold and silver spoons the best lures for these fish. Smoker king mackerel are also a possibility along the coastlines, with a few decent kings weighed in this past week. Plenty of greedy sharks along Virginia's coastal waters continue to providing some interesting catches.
Sheepshead are still hitting well, with nice fish taking fiddlers, crabs, and clams. The entire span of the Bay Bridge tunnel, as well as the tubes of the artificial islands, are holding fish. Trigger fish action is still a go, with some big triggers hanging on the CBBT and inshore structures, with reports of one fish pushing to over 5-pounds caught this week. Spadefish are still hanging around the 4th island, with some spades reaching up to around 6-pounds.
Croaker continue to hit in most areas of the lower Bay and inlets. Some of the better locations include the MMBT, the CBBT, the Cell, and the concrete ships. The croaker bite in Oyster is still going strong, with coolers full of hardheads weighing to a pound the norm this week. Spot are also hitting in many of these same areas, with both Rudee and Lynnhaven Inlets reporting some good hauls, depending on the day. More Northerly winds could improve this trend. Some puppy are hitting within many skinny water locations, with the better action happening in Lynnhaven and Rudee Inlets. These juvenile reds will hit a variety of baits, with fresh cut mullet and Gulp mullets the top choices lately.
Tarpon action is good on the Eastern Shore out of Oyster, but this bite will be winding down soon.
Amberjack are still available at the South Tower, and Jack Crevelle are also a possibility at the Chesapeake Light Tower, especially later this month. A variety of nice tilefish, grouper, blackbellied rosefish, and barrel fish are accessible for deep droppers along the Canyon edges.
Offshore, the billfish bite is hit and miss, but the marlin trend should continue to improve over the next few weeks, with the best results still centered around live-baiting techniques. Wahoo are still possible, along with scattered yellowfin tuna and plenty of mahi, with nice gaffers common right now.