This is the time of year that I should be reminding you to make sure your fishing licenses are up to date before heading out on your first trip of the season. If you have not purchased your Virginia Saltwater license you may want to wait. License fees are changing again and this time in the right direction. Saltwater license fees will be decreased by about $5. This could happen as soon as April 1. The date of the change will be decided at the March 24 VMRC meeting. So if you do not have a fishing trip planned for this weekend, you may want to wait and see when the new fees will take effect. You may save yourself $5.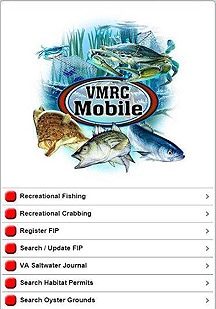 The VMRC has recently updated their mobile-friendly website to make it a very useful tool for anglers. Time after time on the water the vhf radio is filled with anglers asking about what they can keep or what a citation for this or that fish is. Now, in one easy location, you can use your smart phone to find the regulations, citation sizes, and state record for each species of fish. You can also register a guest for their FIP number, find recreational crabbing regulations and a lot of other useful information in one convenient location. Visit www.mrc.virginia.gov/mobile for instructions on how to place VMRC Mobile on the homepage of your iOS or Android mobile device. A direct link to VMRC Mobile: https://webapps.mrc.virginia.gov/mobile/ .
There really has not been much in the way of actual fishing going on. When boats get out, tuna are being caught out of the Outer Banks. Some days have been better than others. Both bluefin and yellowfin tuna are being caught. Some boats have made the long run south out of Virginia to get on the tuna. When tuna are caught, the run is worth it but otherwise it is just a lot of fuel being burned. Offshore out of Virginia, it has mainly been bottom fishing for tilefish. Tautog can be caught on the coastal wrecks but it will probably be April before the bay fishery picks up. Striped bass have been in the bay for a while. There have been some impressive catches in the commercial nets including fish to over 60 pounds. I have not heard of any rod and reel catches in Virginia but there have been catches in the Maryland portions of the bay as anglers prepare for the opening of their trophy season.
Recreational striped bass regulations will be decided at the VMRC meeting. The regulations for the bay are pretty set. The minimum size will rise from 18 to 20 inches. Everything else will stay the same except for the spring trophy season. That minimum will rise from 32 to 36 inches and there will be a special permit required (free). What we do have some options for is the coastal fishery. Right now, it is at one fish per angler with a minimum of 28 inches long. These are the options that are being looked at for the rest of this year and on into 2016:
1. Maintain the current one fish possession limit with a 28 inch size limit;
2. Establish a two fish possession limit with a 33 inch minimum size limit;
3. Establish a two fish possession limit, with 1 fish allowed with a minimum size limit of 28 inches and a maximum size limit of 34 inches and 1 fish allowed with a 36 inch minimum size limit; or,
4. Establish a two fish possession limit, with 1 fish allowed with a minimum size limit of 28 inches and a maximum size limit of 36 inches, and 1 fish allowed with a 38 inch minimum size – limit.
If you have a preference, let the VMRC know before the March 24 meeting.
The Poquoson Kiwanis Club will hold a Boating and Fishing Flea Market on March 21 at Poquoson High School, 8am-1pm.
The Hampton Boat Show will be at the Hampton Roads Convention Center March 27-29. The PSWSFA will have a table at the boat show and we need volunteers to help man it. Contact Nelson Ortiz if you are willing to spend some time at the table to hand out information on the club and flyers for the Flounder Bowl.
The Flounder Bowl will be held on June 27. Again, it will be limited to 120 boats. This event is made possible through tremendous business support. Participants are encouraged to patronize these businesses that support recreational fishing. Anglers and sponsors can register for this year's Flounder Bowl at www.flounderbowl.com .