MOREHEAD CITY – The N.C. Division of Marine Fisheries has certified a new skipjack tuna state record.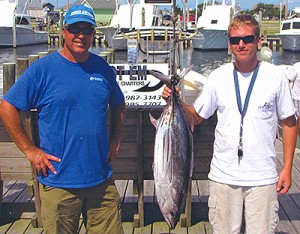 Matthew Charles Kelly of Chesapeake, Va., reeled in the 32-pound fish Aug. 31 while fishing in the Gulf Stream south of Hatteras Inlet.
The previous state record skipjack tuna weighed 22 pounds, 3 ounces, and was caught off Wrightsville Beach in 1979. The world record skipjack tuna weighed 45 pounds, 4 ounces and was caught off Baja California, Mexico in 1996.
The fish was caught on a GLoomis Pelagic Series rod with a Shimano Torsa 30 reel using a Zuker Feather Lure on 30-pound test line. It measured 34 inches from the tip of the nose to the tip of the fork in the tail and had a 24-inch girth.