Common to this time of year, a barrage of fronts and gusty storms continue to challenge anglers. If you have a schedule allowing you to take advantage of the brief weather breaks, the fall fishing scene can be very good.
Bull red drum continue their typical fall run as they rally before their final departure in a few weeks. Multiple hook-ups near the islands of the CBBT keep anglers going back for encounters with nice fish ranging into the 50-inch range, with both live and fresh cut bait working well. Big red drum are also coming from the surf lines off Sandbridge and the Wildlife Refuge, where fresh cut spot is the top bait for casters. This bite will continue to heat up over the next weeks. The breakers off the Eastern Shore barrier islands are still hosting bull reds. Plenty of big puppy drum are also hitting around the islands and within the wash off the shorelines, with many pups too big to keep. A few straggling cobia are still a possibility, but this fishery is mostly over for the season.
The shallow water fishing action is still escalating, as reports of nice speckled trout show promise of a good winter season. Specks pushing to 7-pounds are hitting lures and live bait in various backwater locations such as the Eastern Shore shallows, Lynnhaven, Rudee, and Little Creek Inlets, the Poquoson flats area, Back River, as well as the Elizabeth River. This trend will intensify through the cooler months. Puppy drum are still hitting in most local shallows and inlets, with the best action happening on cut bait or live mullet.
Spot continue to please this week, with boaters as well as surf and pier anglers getting in on the action. Little Creek Inlet, the HRBT, Rudee Inlet, and Lynnhaven Inlet have been the most productive areas lately, with bloodworms the best bait. Big croaker are still responsive in the deeper holes near the HRBT and the CBBT, with some medium-sized hard heads biting in the local inlets.
Striped bass season debuts in the Bay this week. Schoolies are available for anglers casting along the structure of the HRBT and the CBBT, where lots of snapper bluefish will also take your offerings. Larger rockfish, usually averaging around 15-pounds, will also respond to live bait along the tubes of the crossings right now. As of October 4th you can keep two fish per person measuring between 18 and 28-inches, with one of the two fish allowed to measure over 28-inches in Bay waters. This will stand until the regulations change again in December.
Flounder are still available along the lower Bay channels, and along the CBBT, but the water is often churned from the frequent windy conditions. Offshore wrecks are giving up nice catches of flounder, along with some jumbo seabass, which cannot be kept, as well as big triggerfish. Bottom bouncers can also find willing tautog on some of these same structures.
In the Bay, folks are experiencing decent tautog action along the CBBT and on inshore structures when they can get out. Anglers are weeding through lots of small fish to find keepers, with the top catches happening on fiddler crabs. Sheepshead averaging to around 8-pounds are also mixed in with tautog along the tubes of the Bay Bridge Tunnel.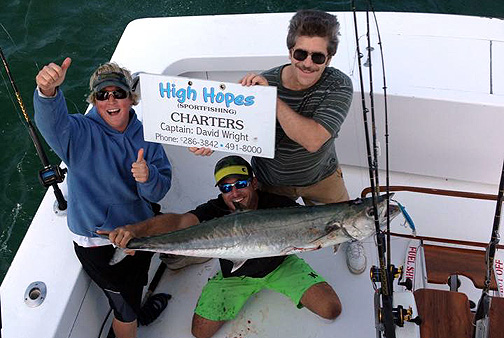 Boats trolling with both live bait and plugs along the shorelines from Sandbridge to False Cape are still experiencing some king mackerel encounters, with some kings pushing to over 30-pounds this week. Spanish mackerel and false albacore are also possible in these same areas. A few amberjack and jack crevalle are taking offerings at Chesapeake Light Tower recently, while time is running out to tangle with the big AJs at the South Tower.
Deep dropping is still good when boats can get out to deeper water. A good selection of barrelfish, along with nice blueline tilefish, golden tilefish, blackbellied rosefish, and a variety of grouper are hitting near the Norfolk Canyon.
Although the marlin bite has slowed, billfish are still providing some opportunities for boats making it out between blows, but not for much longer. Most are more interested in the possibility of a variety of tuna, hoping for a run like last year's fall season. Wahoo encounters are also increasing, with plenty of nice gaffer and bull dolphin also around for the taking.