Most have given up on cobia and have moved onto other fish. There are still some cobia to be caught though, and there were some nice catches this past week. Big red drum are receiving a lot of attention now. Schools of red drum are being encountered by sight-fishermen. More red drum are being caught fishing around the islands of the CBBT. Some black drum are also being caught.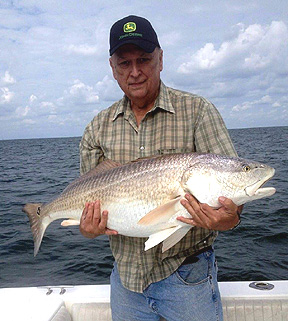 Puppy drum, speckled trout and striped bass are being caught in the shallows from the Mobjack Bay to the James River. Flounder are being caught at the CBBT and around some of the coastal wrecks. Anglers targeting flounder at the CBBT and at the HRBT had to deal with an influx of bluefish this week. Bluefish in the 1-4 pound range are plentiful throughout the lower bay. The striped bass season in the bay will open on Oct. 4.
The coastal wrecks are holding sea bass, sheepshead, and triggerfish. Tautog will become more active over nearshore wrecks and structures inside the bay as the waters cool. The tautog season opens on Sept. 20 while the sea bass season closes on Sept. 22.
Spot fishing is good. Coolers are being filled in most of the rivers on the western side of the bay. The Piankatank and York Rivers have been particularly good. Good catches of spot are also being made inside of Lynnhaven and Rudee Inlets.
Some big king mackerel are being caught along the oceanfront on out to the Light Tower. False albacore and there are still some Spanish mackerel being caught in this area. Trolling over and around wrecks and other bottom structure is productive.
Offshore, the billfish bite picked right back up as the boats were able to get back offshore. Dolphin are still being caught but not in the numbers they were a couple of weeks ago. The wahoo bite is heating up.
The Grafton Fishing Supply Spot Tournament will be held Sept. 27-28. You need to be registered prior to fishing and you must bring your spot to Dare Marina by 2 PM on the 28th. Following the weigh-in, there will be an awards ceremony and club picnic.
The Don Forman Cobia Tournament was won by 12-year-old Hayden Head of Seaford. Hayden caught his 55 pound 8 ounce cobia while fishing with his father, Capt. Jorj Head. Wes Blow, of Newport News, took 2nd place with a 35 pound 1 ounce cobia. The tournament was sponsored by Bishop Fishing Supply. Capt. Rick Wineman was the Tournament Director.
There will be more strict striped bass regulations in 2015. Just how strict and how much of the burden will have to be borne by Virginia's anglers versus those of other states is being discussed now. There will be an ASMFC meeting in Virginia to discuss these issues: September 22, 2014, 6:00 pm – 8:00 pm, Virginia Marine Resources Commission, 2600 Washington Avenue, 4th Floor Newport News, Virginia.