25th Annual Alice Kelly Memorial Tournament from Tom Spencer on Vimeo.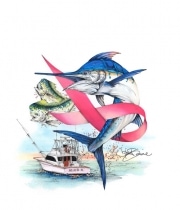 Leading up the Pirate's Cove Billfish Tournament the ladies get their turn to reel in the Big One! The Alice Kelly Tournament is an annual event the Sunday before the Billfish Tournament. The 24th Annual Alice Kelly Tournament, was held August 11th is a fundraiser event for the Outer Banks Cancer Support Group.
This year's Tournament was another successful and exciting one with 64 boats fishing in this years event. Your leaderboard results are posted below.Congratulations to all of this year's winners!
LEADERBOARD RESULTS 08/11/2014:
Top Boat:
1st. Triple 7, Charles Haywood (Captain) 350 Pts.
2nd. Desperado, Rob Barker (Captain) 310 Pts.

3rd. Smoker, Brynner Parks (Captain) 280 Pts.
Top Lady Angler:
1st. Salvation, Pamella Simmons 140 Pts.
2nd. Samanna, Kim Kessler 70 Pts.

3rd. N/A
Top Junior Angler:
Pelican, Emily Bracher
Largest Tuna:
True Grit, Missy Swain (Angler), 61.7 lbs.
Largest Dolphin:
Smoker, Rebecca Powell (Angler), 28.5 lbs.
Largest Dolphin Jackpot:
Fin Planner, Ann White (Angler) 26.6 lbs. worth $8,925.00
Largest Wahoo:
N/A