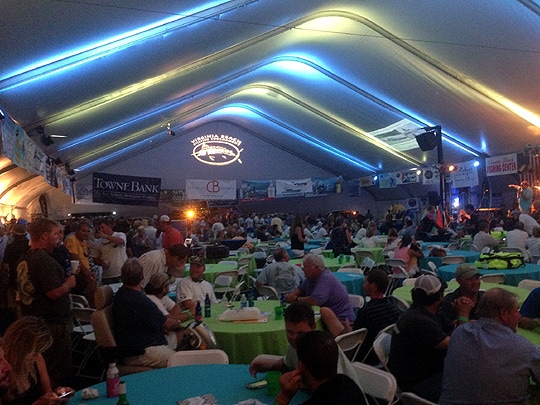 The 2014 Virginia Beach Billfish Tournament featured a sold-out field of 75 boats, 443 anglers and a $424,000 purse. The three day event concluded Saturday night at the Awards Banquet sponsored by Desperado Sportfishing. The field caught and released a three-day total of 433 billfish – 15 blue marlin, 357 white marlin and 61 sailfish.
Team Uno Mas from Florida, captained by Tom Lynskey took home top honors. They caught and released 12 white marlin and three sailfish, finishing with 1,050 points, enough to win the coveted "Wayne McLeskey Memorial Top Boat" award and a $209,500 paycheck.
Second place went to Stream Weaver and Capt. Mike King from Wrightsville Beach. They released 11 white marlin and three sails for a $97,067 payday.
Third place went to Evelyn Kennedy and Capt. Kevin Pankoke of Virginia Beach with 13 white marlin. The team received $68,767.
Meatfish awards went to Cotton Picker from Savannah, Ga (51.1-pound wahoo) and to Virginia Beach's Cuttin' Up (34.8-pound dolphin). $18,125
Fifteen year old Elliott Enslen aboard the Welder's Arc won top junior angler, releasing a blue marlin and four whites.
The top overall angler and top lady angler was Cheryl McLeskey on the Croupier. She released six white marlin and one sail.
The Joel Webb Memorial Top Mate Award was given to A.J. Allesio on the Tippecanoe.
Charities also were big winners, with $5,000 going to DARE, $7,000 to Stop Abuse, and $12,500 each going to the Boys and Girls Club and Achievable Dreams.
LEADERBOARD http://scoring.vbbt.com/
Next years event will be held Aug. 19-22, 2015.